In June of 1997, Dr. Frank Schulman became our minister, speaking regularly on the 2nd Sunday of each month until his death in January 2006.
IN MEMORIAM
The Rev. Dr. Frank Schulman
March 26, 1927 – January 4, 2006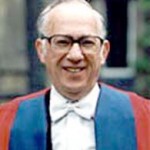 Our minister from June of 1997 until January of 2006 was Dr. J. Frank Schulman.
The Huntsville Unitarian-Universalist Fellowship lost its best friend and minister on January 4, 2006. True to his word, Dr. Schulman modeled courage in his battle with cancer and dignity in his death, thus continuing a lifelong pattern of commitment to the causes and principles he believed in. A scholar, teacher, minister, author of seven books, theologian, historian, and civil libertarian, Dr. Schulman inspired us all.
After serving as minister of Emerson Unitarian Church in Houston for twenty-five years, Dr. Schulman agreed to become our minister in 1997. With his leadership, we have grown in numbers and become stronger in our faith. Twenty members of our congregation journeyed to Houston to attend a memorial service in his honor on January 8, 2006. That's more than half of us and gives witness to the high regard in which we hold him. "Frank, we miss you."
Dr. Schulman was ordained a Unitarian minister at the Arlington Street Church in Boston in 1954. He served Unitarian churches in Worcester, Mass.; Youngstown, Ohio; Houston, Texas; and Horsham, England.
Dr. Schulman taught philosophy at Youngstown State University; and at Manchester College, Oxford University, in England he served in the dual capacity as chaplain and supervisor of training for the divinity students. His teaching was mostly in the field of church history.
Dr. Schulman was the author of Ralph Waldo Emerson: His Life, His Work, His Theology; Introducing Unitarianism; The Message of Christmas; Emerson as a Minister; 'Blasphemous and Wicked'–the Struggle of Unitarianism for Legal Equality; A Fine Victorian Gentleman, The Life and Times of Charles Wellbeloved; This Day In Unitarian Universalist History and numerous pamphlets and articles.
Dr. Schulman continued his research in Unitarian history and remained a Fellow of Oxford University. He served on the Faculty of Theology there, the first Unitarian to hold that position. He also was Minister Emeritus of Emerson Unitarian Church in Houston.
Dr. Schulman served on numerous denominational and civic organizations. He and his wife, Alice, had four children and lived in The Woodlands, Texas.