September 2009 – December 2011
John graduated Summa Cum Laude with a Master of Divinity degree from the Houston Graduate School of Theology in May of 2008 while working full time as an engineer with the federal government's USDOT Office of Pipeline Safety. John began graduate school several years ago after discovering a passion for theology and religious history.
In September 2009, John began preaching regularly at Thoreau Woods. In support for and appreciation of John in his ongoing goals and ministry, the membership voted unanimously in May of 2010 to ordain John Pepper. The ordination ceremony was held on July 13, 2010, during the Sunday service at Thoreau Woods UU Church. The attendance exceeded the number of any other Sunday morning service for our congregation. We are proud to call John Pepper our minister.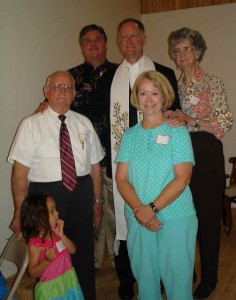 John with his family after his ordination