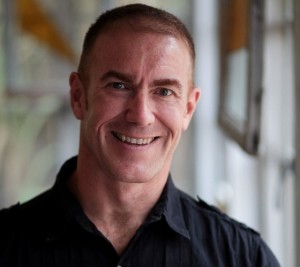 The Reverend Tony Lorenzen is an ordained Unitarian Universalist minister, a spiritual director, and a free range builder of beloved community.  He is a native of Leominster, MA. He is a graduate of Fitchburg State University and Harvard Divinity School.  He has served congregations in Massachusetts and Texas since being ordained to the UU Ministry in 2007. He is currently the called minister Hopedale UU in Massachusetts.  He blogs on liberal religion at www.sunflowerchalice.com and tweets about liberal religion @revtonyuu.
Minister's Notes
June 2015
The end of June will be the end of my year with you. It's hard to believe it's been a year already!  I know I am making a good move for myself to return to Massachusetts – it will be good for me personally and professionally. Personally, because I will be close to my aging parents, my brother and sister-in-law and their infant first child, and my son who will be at college.  Professionally, I am honored to have a full-time settled ministry with one of our historic congregations. And yet…I will miss many people, especially you.  Thoreau Woods UU Church  has been wonderful to me this past year and I in turn fell in love with you as a congregation.  I hope that one legacy of our time together will be a new comfort level in working with religious professionals and ongoing courage to try new things in all aspects of congregational life.  My thanks to all of you who have taken time to speak with me since I announced my resignation and departure for the Hopedale, MA congregation. I deeply appreciate all the well wishes and the opportunity to reflect on the past year's work and encourage you to boldly move into the future.  I hope to see all of you on my last Sunday, June 28.   As much as I will love going home to Massachusetts, I will miss TWUUC  and each of you in equal measure.   Blessings, Rev. Tony
May 2015
The Gift of Delight
Take a moment and stop. Breathe. Call to mind if you can any moment or experience that filled you with light, hope, joy, delight or happiness.  Here's my recent list:  A day spent kayaking in the rain with my partner,  a complete stranger handing me two free tickets to see Bruce Springsteen at the Mitchell Pavillion, spending my son's 18th birthday with him, Christmas Day with my new nephew Calvin, The Boston Red Sox winning the 2004 World Series, Listening to U2 in the car and singing aloud at full voice.   Our brains are hardwired for the negative. It's an evolutionary survival mechanism. Letting the fun, the delightful, and the optimistic rise to the surface may seem to take more emotional effort…and it does…so let us remember to note it and celebrate it.   There are times when no amount of preaching, consoling, and counseling can stop our feeling pain, grief, and sadness. Yet there are times that joy crashes into us.  Let us do our best to welcome it and let it wash over us. If we dare, we might even seek it out.  Rev. Tony
April 2015
Dear Members and Friends of Thoreau Woods UU Church,
I write to you to inform you that I have accepted the offer to be the candidate for the ministry at Hopedale Unitarian Parish in Hopedale, MA.   ​
I will spend April 26-May 3 with the congregation and at the end of the week the congregation will vote to call me as their full-time settled minister.  Should the call be offered, I will begin my ministry there in August.
I have already spoken to the president of the congregation and informed the board that because I will accept the call if so voted, I am exercising the termination clause in my contract with the congregation which requires a minimum of 60 days notice. Thus I will end my ministry on June 30, 2015  at the end of the first anniversary of the contract.
I want you all to know that my decision is not a reflection on Thoreau Woods or it's leadership or my experience serving as your consulting minister.  My decision to seek a settled ministry, and to seek one in Massachusetts, has more to do with changes in my own life over the last year, some of them unexpected, but all of them having to do with my family.
I have truly enjoyed my time with you and I believe we have accomplished a lot in the past nine months.  The goals for my ministry with you include identifying a mission, better understanding the congregation's history and systemic dynamics, identifying and equipping new leaders, and building a relationship of mutual trust with an ordained UU minister.  I believe that together we have achieved these goals, even if we haven't identified as many new leaders as we might have hoped.  A new website has been launched along with a new e-newsletter, congregational conversations have help narrow focus and mission, leadership has become more intentional in their governance and planning, and a discussion is under way about clarifying the future direction and goals of the congregation.
I am incredibly grateful for my time with you. I have enjoyed my ministry tremendously and I will treasure the opportunity I had to work with your board, your transition team, your music ministry, and the Firewalkers..  I will carry with me fond memories of silly string, Christmas caroling, pot lucks, and coffeehouses. I am incredibly proud of you for taking on the mission of being death penalty abolition advocates and public witnesses via the vigils at the Walls unit.
I wish nothing but the best for Thoreau Woods.  I will be at the church as usual through the end of June.  I am not able to discuss future direction of the congregation in terms of ministers and ministry.  I am able to say, however, that should the congregation decide to continue with professional ministry, any of my colleagues would be blessed to serve such an amazing congregation.
I encourage you to support and trust your amazing and dedicated congregational leaders in the weeks and months ahead as you make decisions about future direction and staffing. I will miss you all, but you will remain in my heart, my thoughts, and my prayers.
With many blessings and much love, Rev. Tony
Not What it Actually Is by Rev. Tony
Our spiritual theme for April is transformation. My friend and Harvard Divinity School classmate Mary Hess is a professor of religious education at Luther Seminary in St. Paul, MN.  For as long as she's kept a professional website, she's had this quote about transformation from educator Robert Keegan on her home page: "The emotions and the experience, the gratitude or the terror, associated with transformation are very different from what transformation actually is."

Transformation is thorough and dramatic change in form or appearance, metamorphosis, something becoming something else.  We tend to think of transformation being quick and easy, even instantaneous. We think of a magician turning a prince into a frog, or whipping coffee and milk into a frothy latte, but transformation is rarely so rapid a process.  A caterpillar transforms into a butterfly, but the process can take weeks.  The process that transforms students in physicians or therapists or ministers takes years.  
Transformation is not an event so much as a journey.  Along the road we learn, make mistakes, learn again. We try and fail and try again. We are very active and we have times of inactivity.  We engage life and yet at other times we seem to just exist day to day. Our experiences and the our emotions, the joy and the terror that are ours during the journey are not transformation. Transformation is the sum total of all the changes wrought in us through our engagement – with a course of study, a relationship, a spiritual program, a diet and exercise regimen, or life itself.  

Getting Wet by Rev. Tony
Transformation can't be planned, organized, and scheduled. Progress on the road toward transformation can't be charted or mapped out.  The more we try to plan our own transformation the less attention we give to the engagement of things that will, in the end, work the wonder of transformation in us.  
In his book "Simply Pray", UU minister Rev. Erik Wikstrom quotes Episcopal priest Martin Bell, "You cannot engage the sacred and then commit; commitment is the one and only way of engaging the sacred."   Rev. Wikstrom continues by saying that "you can't find out what "wet" feels like unless you get into the water…There's no way to talk about it. There's no explaining it. There's no understanding it, even. There is just getting wet."

Just as church growth is not a goal, but a byproduct of good ministry, neither is transformation a goal.  Transformation is what happens when you work toward other goals.  Transformation happens through the discipline of engagement.  One can't plan for transformation. Transformation isn't the destination. Rather transformation is the result of traveling the road.

People often seek a spiritual renewal or transformation without wanting to get wet.  We want to question religious and spiritual validity or teachings. We want to search spiritual methods for evidence of unreasonableness. We want to map out our course and our response to the road to such an extent that we never take the journey.  At some point for any real transformation to happen, spiritual or otherwise, we have to trust that changing our behavior will change our perception and experience.  If we engage life, practice a skill, stick to the discipline of meditation or yoga, the very act of doing these things over time will transform us.  We will no longer be the people we used to be in very substantive ways.
March 2015
Beautiful and Terrible Things
I think our culture is over focused on happiness.  "The pursuit of happiness" is built into American DNA.  Being happy is important, but it's completely unrealistic for us to seek to be happy all the time. Perhaps it is unrealistic to seek to be happy in general.  I remember the 1988 song by Bobby McFerrin, "Don't Worry, Be Happy."  This tune, catchy and upbeat as it is, reflects our culture's unrealistic attitudes toward happiness. The lyric offers a series of what we all might consider negative life experiences and replies to them with "don't worry, be happy."
I think the song is trying to promote a sense of balance and reminding us to not let all the things that can get us down keep us down. Yet on the surface it seems to say that we just need to change our attitude.  I do believe, and research suggests, a power to positive thinking and that meditation, breathing, and stress reduction techniques can and do help us rewire our anxious brains.   At the same time, it's important to remember that some people can't and don't experience joy and happiness.  Depression saps people of joy.  Clinical depression is an epidemic worldwide.  It does little good to tell depressed people to cheer up, get over it, or get on with it. The insidious evil of depression robs people of energy, of will, of feeling anything good or bad, happy or sad.
As we begin our monthly theme of joy I ask us to remember first that we seek not to be happy all the time, nor are we insensitive to the reality that for some people happiness has been removed from their experience.  At the same time, I encourage us to treasure moments of delight, joy, and happiness as they come our way.
Frederick Beuchner wrote "Here is the world. Beautiful and terrible things will happen. Don't be afraid."   Treasure the beautiful. Recognize it for the gift it is. Have compassion for the terrible. Most of all, in either case, don't be afraid. Don't be afraid of the darkness and don't be afraid to revel in and enjoy the light.
The Gift of Delight
Take a moment and stop. Breathe. Call to mind if you can any moment or experience that filled you with light, hope, joy, delight or happiness.  Here's my recent list:  A day spent kayaking in the rain with my partner,  a complete stranger handing me two free tickets to see Bruce Springsteen at the Mitchell Pavillion, spending my son's 18th birthday with him, Christmas Day with my new nephew Calvin, The Boston Red Sox winning the 2004 World Series, Listening to U2 in the car and singing aloud at full voice.
Our brains are hardwired for the negative. It's an evolutionary survival mechanism. Letting the fun, the delightful, and the optimistic rise to the surface may seem to take more emotional effort…and it does…so let us remember to note it and celebrate it.
There are times when no amount of preaching, consoling, and counseling can stop our feeling pain, grief, and sadness. Yet there are times that joy crashes into us.  Let us do our best to welcome it and let it wash over us. If we dare, we might even seek it out.
February 2015
The  Many Faces of Love
There is a famous and often quoted passage (usually at weddings) on  from the Christian scriptures. It  its take from the 13th chapter of Paul's First Letter to the Corinthians.
Love is patient; love is kind; love is not envious or boastful or arrogantor rude. It does not insist on its own way; it is not irritable or resentful; it does not rejoice in wrongdoing, but rejoices in the truth. It bears all things, believes all things, hopes all things, endures all things.   Love never ends.
I can't say this isn't truth, but love is also more complex than this utopian portrayal. Love is also silent and loud, and particular, and difficult.
Love is Silent
Sometimes we have no other way to say "I love you" than our silence.  There really are no words of comfort for life's great losses, especially the loss of love and the loss of life.  At times of trauma and loss and grief, quite often the most loving thing we can offer is a silent presence.   It's been said that there can only be great pain where there is great love. And in these time of great pain born of love, we find that quite often the loving response is to bear silent witness to it. And to be there when the time for silence ends – a time for talking and crying and wailing and telling love's stories.
——
Love is Loud
Sometimes love is loud.  Sometimes love causes us to cry and wail. Sometimes love requires us to hold difficult boundaries and exercise restraint. This is particularly difficult when someone has harmed us or hurt us and all we want to do is rail against the hurt in an unloving a way as is possible. Sometimes love causes to raise our voice in opposition and resistance.  Sometimes this love needs to be silent to be loud, such as standing in vigil and silent protest against the death penalty or in silent witness in support of the Houston Equal Rights Ordinance.
Love is Particular
English is often a very precise language. It has become a world language through empire and political and economic conquest, but the fact remains it can be very precise.  There are concepts however where English doesn't get specific enough.  Love is such a concept.   The Rev. Dr, Martin Luther King, Jr. was one of the many preachers, pastors, and theologians who have pointed out to us the three words used for "love" in the Greek text of the Christian scriptures.  Philos is the love of family and friends.  Eros is romantic, erotic, sexual, intimate love. Agape is the all-encompassing love.  When we stand on the side of love we stand in agape, as agape is the idea behind universalism itself – that no one needs to be special or perfect to be loved and all deserve love and respect.
January 2015
It's a Matter of Trust ​Dear Friends, Our January theme at Thoreau Woods is FAITH.  Yes, that's one of those words that can get Unitarian Universalists hackles up.  I hope it doesn't raise yours, however. Faith, after all, is about trust.  Even the Hebrew and Christian scriptures talk about trust.  The words in Hebrew and Greek that are translated as "faith" are actually the words for "trust." Faith isn't about giving blind assent to a set of believes, a creed, a dogma or a deity.  Faith is about counting on others to be there, counting on yourself, and counting on your underlying assumptions and values to be true and hold up to challenges.  Thoreau Woods and our covenant with each other depend on trust, on having faith in each other.  As we continue through this period of intentional transition into the next phase of Thoreau Woods evolution as a congregation, let's remember that one of the most important things we can to do assure our success and a bright future is to have faith in each other. Blessings, Rev. Tony
December 2014
Ultimate Optimism by Rev. Tony
"There are sufficient resources, both divine and human, to justify an attitude of ultimate if not immediate optimism."  – James Luther Adams
When I was in college a journalism professor gave our class an assignment to write down everything we know, everyone we know, every place we've been to, and everything we've accomplished.  His point was that we all had an amazing supply of resources from which to write.  Years later when I began studying Unitarian Universalism and learned of the five smooth stones of religious liberalism, I remembered my journalism assignment as an early theological exercise in ultimate optimism.  The more resources we are aware of, the more we trust that we will ultimately be able to accomplish our goals.   Things may be tough at the moment, but what we need to get there is at our disposal.  

Thoreau Woods is going through a time of intentional evaluation and change.  This is always difficult, but we have a lot of resources that justify our hope in a great future for the congregation.  We have identified some new leaders and our new leaders are working hard on helping us forge a direction for the years ahead.  Most of the congregation has participated energetically in regular congregational learning and sharing including a fantastic ministerial start up session with a UUA consultant a couple of week ago.  We have a wonderful new adult spirituality program under way with Firewalking. We are working on updating our newsletter and website.  We have learned that we see ourselves as a welcoming group with a keen interest in education and becoming more active in the community.  
Later this month we will finish our work with Love Reaches Out and we'll identify a target group for outreach and begin active outreach to that group. Following that journalism assignment about resources, I wrote a quote from American industrialist Billy Barton on the cover of my journalism notebook:  "Nothing splendid has ever been achieved except by those who dared believe something inside them was superior to circumstances."   I believe our resources at Thoreau Woods are superior to our circumstances and I have a lot of hope that Thoreau Woods will achieve many splendid things in the months and years ahead.​ 
November 2014
Let's Talk: The Courage to Have a Conversation
The comedienne Joan Rivers would often preface her routine with "Can we talk?"  It was her signature catch phrase. It was snarky and made comedy out of gossip, breaking down masks and facades, and shining the spotlight in places that usually get left alone.   Part of the effectiveness of this routine was that real, open, honest, even vulnerable conversation is difficult in our culture.   I invite you to help me create a culture of healthy communication here in our congregation.  It's part of our covenant to be open, honest, and respectful with each other.  Some things that help us do this include:
Staying Engaged – If you are feeling hurt or angry or frustrated don't walk away, lean in. Ask questions.
Speaking for Yourself – Try to use "I" language.  Don't speak for "a lot of people" or "some people." Anonymous communication rarely, if ever, helps. Own your own thoughts and feelings and encourage others to do the same.
Practicing Direct Communication – Don't talk to "John" about what you think of "Jane", but rather talk to Jane.  Avoid creating emotional triangles.  If it's hard for you to talk directly to the person you need to be communicating with, ask me or a lay leader to serve as a mediator and be present to the conversation.
Not Taking Things Personally –   Someone may be upset at you, but not with you.  You might be bearing the brunt of frustration or anger at something or someone else.
Seeking to Understand before Seeking to be Understood – Very little happens in a congregation based on pure whim. Most of the time there is a good reason for doing something or trying something or saying something. Be brave enough to find out the reason so that we minimize reactivity.
Being Brave and Trusting Each Other – Being open and honest and direct can be scary because someone might not like what we say.  We might be afraid of what others' reactions will be to our speaking our truth. Let's all try to remember to assume best intentions on the part of all. No one is actively seeking to hurt others or the congregation.
Letting Go of Needing to Have Our Own Way – Any time an organization is in a period of change, it can become easy to hold onto what we want instead of exploring what's the best decision for the congregation.
Apologize and Forgive – Do you best to own your own mistakes and to forgive others for theirs.  None of us is perfect or perfect at communicating with others. We can all be reactive and have bad days.
There are lots of things happening here in the congregation. It's a period of intentional reassessment and change. Change is hard. It becomes easier the more we talk openly and honestly with each other. If you find yourself confused, angry, frustrated or anxious, let me know. Let your leadership know.   If something's bothering you, ask who you can talk to about it.
The Transition Team and I are working to make sure that at least once a month we have time for congregational learning and sharing.  In September we had listening circles about hopes and fears. In October, November, and December we are having the "Love Reaches Out" sessions after service on the first Sunday of the month. In the new year, we will hold other events as well.  Your participation is not only requested but vitally important.  The Board of Trustees is working to make sure we have agendas of meetings posted in advance and minutes of meetings available in a timely and accessible manner in order to be as transparent as possible.
By no means am I perfect practitioner of healthy communication but I try to be aware of these things and do my best to apologize when I miss the mark.  Please come speak with me, call me on the phone, email, or text me.  I will be scheduling casual conversation times beginning in November.  I'll be devoting some time each month to just hanging out and chatting with you.  Sometimes I'll hold this at the church, sometimes at a coffee shop, or even at members' homes (please let me know if you'd like to host a coffee or a meal at your house for this purpose).
Perhaps the greatest benefit of intentionally trying to practice healthy communication is the better we get at it, visitors and newcomers will notice. They may not be able to name it, but the way we treat each other (and them) will make evident that we are who we say we are.
Blessings, Rev. Tony
October 2014
Dear Holy Ones,
During our Sunday worship service on September 14 those present created a working covenant for TWUUC.  This covenant will be the basis of agreement, the promises we make to each other about how we will be in community as we do the transition work into the next phase of the congregation's story.  This is not only our covenant for our transition work, but is the working document for our revised bylaws.  If you have any suggestions for this covenant, please send them to Rev. Tony.  If you were present on September 14 and signed the covenant, please make sure your name is on the list of signers and that we have it spelled correctly. If you were not present and want to add your name, please contact Rev. Tony.  Creating and keeping covenant is a courageous act.  I am proud of all of us for having the courage to enter into this adventure of transition, renewal, and re-invigoration.  I look forward to the rest of the journey with you.
Blessings, Rev. Tony
September 2014
Dear Friends,
Beginnings.  September is the time beginnings in our Unitarian Universalist churches.   Congregations that still practice the inherited tradition of "taking the summer off" as well as congregations that have services and programs year round ramp up again at the end of the summer and the start of a new school year.
Things here at church will begin in new, courageous, and adventurous ways this fall. Here's just some of what's beginning:
We will begin using a new method and program to welcome visitors.
We will debut a new web site.
We will begin our monthly series of "Rev. Tony, Now What?" gatherings to acclimate everyone to the transition process from what the churchhas been to what it will be.
We will begin offering Firewalking, a spiritual deepening program for Unitarian Universalists.
We will begin offering small group ministry before worship on Sunday mornings.
We will begin holding Pathways to Membership classes for prospective new members.
We will undertake a revision of our bylaws and policies.
We will participate in the UUA's new growth program: Love Reaches Out.
This month (and this year), I encourage you to approach your spiritual life and your participation in the church as if you were just beginning the journey.  Approach the next steps in the church's history as you would a new adventure, full of hope and possibility.  We need to be willing to make a fresh start and a re-commitment to our faith and our religious values because we are still deeply needed in the world.
We need a renewed vigor in our religious lives because we need to bring that renewed commitment and energy to the public square. The shootings in Ferguson, MO are only the latest reminder of how much work we still have left to do in order to create a just and loving community.  There's still plenty of hell in the world. It is our job to love the hell out of it as best we can.  Every day we must begin again.
Blessings, Rev. Tony
August 2014
Welcome back! I can't wait to meet everyone.  We will begin our church year on August 24 with Water Communion.  Sometimes Water Communion can turn into a "What I did on My Summer Vacation" litany.  I'd like to suggest that Water Communion does not have be a time to bring water from a far away (or close by) place to which you went on vacation.  Bring water from some place that has meaning for you.  Maybe that place is your garden; maybe it's a friend's pool or a rainstorm you stood out in a back yard or on a sidewalk, marveling at the awesome power of nature.  Maybe you'll bring water from the tap of a father's apartment or a grandmother's house, or the water pitcher of a nursing home where you go visiting.  Re-imagine what water communion can be this year.  Remember, not everyone in our society, or who knows, maybe even our congregation, can afford to go away on vacation to some place where there is water and bring it back for a ritual.  Yet, without water we all die – it is as life giving as each and every breath.  We need it, all of us.  What and who gives you life? Bring that water and that story back to us to share.  It may be water from a vacation or place you went away to, but it may not.  Maybe it's only a story of what or who gives you life and there's no water to go with it.  If so, don't worry about it, we'll have water for you in order for you to take part in the water communion ritual (and extra water for anyone who forgot to bring water and would like to participate).  I'm looking forward to a fantastic year at church and to hearing what gives you life. Tony
July 2014
Dear Friends,
Thank you for giving me such a warm welcome.  New computers have been purchased, a new phone line and email address have been set up. I even had a gift of fresh fruit on my first day!
The first time I visited Thoreau Woods Church, I immediately fell in love with the beautiful sanctuary.  The light, the natural wood, the gorgeous property, and the just plain good energy of the building made me feel at home and at ease.  I get the sense that the grounds and building are ready to give birth to something wonderful as we carry on the work of liberal religion in Huntsville.
I am honored to be serving you as the congregation looks to build a bright and vibrant future while continuing the fellowship's traditions of reason, freedom, tolerance and social justice work.  Over the summer, I invite you to contemplate the idea of legacy.  What have you received from Unitarian Universalism and the Unitarian Fellowship of Houston? What do you want to pass on to those who come after you in the life congregation?  Ten, twenty, fifty years from now, how do you want the people of Huntsville to answer the question: What is Thoreau Wood UU Church?  Blessings, Rev. Tony