The Sanctuary
Lined with an expansive wall of windows our sanctuary creates an airy environment that merges the indoors with the outdoors. We can accommodate 100 to 125 people with matching chairs.  We have numerous folding tables available.
The Kitchen
We have a fully equipped kitchen with a large refrigerator, counter space, two dishwashers, double commercial sinks, microwave, oven and range.  A closeable window connects it to the sanctuary.
The Library
The library can seat about a dozen people around a work table.
Youth R.E.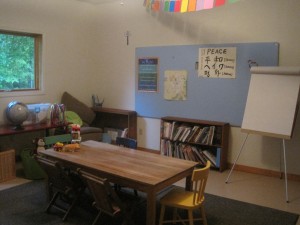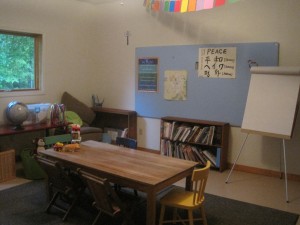 Building and Grounds
Our grounds include a back patio, Peace Pole, Kelley Sigler Memorial Garden, and the Stringer Nature Trail.
NWF Certified Wildlife Habitat: The National Wildlife Federation has certified Thoreau Woods UU Church as a "Wildlife Habitat." To protect wildlife for the future, a Wildlife Habitat provides the four basic elements necessary for wildlife to thrive: food, water, cover, and places for animals to raise their young. Furthermore, a Wildlife Habitat incorporates sustainable gardening practices using native plants, plants that provide the best food and shelter for local wildlife as well as supporting insect life. We have just received a sign to display in our yard. Thank you to Lee Williams and Dusty Hill for applying for certification.