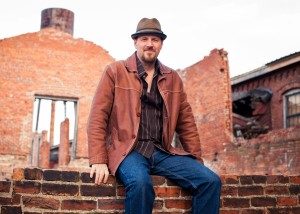 Brian Ashley Jones is a soulful singer, acclaimed guitarist, actor, and versatile touring songwriter whose guitar-driven Country and Blues tunes have found their way into film, television and radio and have been recorded by other performing artists. Originally from the Greenville/Spartanburg area of South Carolina and a longtime resident of East Nashville, TN, Brian performs internationally at festivals, concert series, clubs, music education programs and music conferences.
Jones' 3rd CD of original songs entitled Out Of The City features collaborations with Jonell Mosser, Suzi Ragsdale, Ike Stubblefield, Kevin McKendree, and more!
Brian's 2007 release, Courier, made the Top 40 of the Roots Music Report, broke the Top 100 of the Americana Music Association's album chart, and has received widespread commercial, college, public, and international radio play. The swampy instrumental "Pull 'em Up" has been featured in the widely acclaimed PBS television series "Road Trip Nation" and "Free To Miss You" has been featured in the British ITV2 network television show "Amanda Holden's Fantasy Lives".
Jones' guitar chops and relentless touring earned him a nomination for Best American Roots Guitar Player in the Alternate Root's 2011 Reader's Choice Awards. Brian has accompanied a diverse batch of artists on stage and in the recording studio including Grammy Award winning songwriter Jon Vezner, Nashville Songwriters Hall Of Fame inductee Jerry Foster, Eric Heatherly, Caroline Aiken, Thom Shepherd, Sara Hickman, Donna Hopkins, David Gans, Corinne West, Doug Jones, Donovan Roberts, Jeff Black, Diane Durrett, Ralph Roddenbery, Deep Blue Sun, Celeste Krenz, Wyatt Easterling, and Spuyten Duyvil.
"…a stellar guitar player, lyricist and songwriter… Brian's live show is a must see!"
– Tom Tranchilla, KPFT, Houston, TX.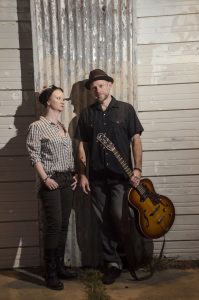 His was hard rock and heavy metal. Hers was the classic sound of the East Texas piney woods. Theirs was a fiery collision, bearing forth a sound that was at once novel and instantly familiar–nodding to roots seated deep in high lonesome harmonies and back porch blues, while peering out at a scorched path bound by modern assertions and contemporary commentary. This two-person, dozen-instrument act provides a show full of sound and fury, punctuated with raw, quiet vulnerability. Come welcome Grifters & Shills as they bring you back home.
Date/Time
Date(s) - Aug 19, 2017
7:00 pm - 10:00 pm
Location
Thoreau Woods Coffeehouse