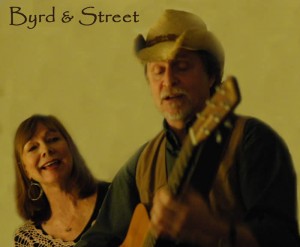 Audiences are in for a treat with Austin duo Byrd & Street noted for their "impeccable male/female harmony," "solid first-class songwriting" and lively stories about their songs, performed with guitar, autoharp, glockenspiel, pianica, and a percussive cabasa. Four-time nominees for Texas Music Awards and three- time Kerrville Festival New Folk finalists, their songs have been recorded by other artists, including Paul Stookey of Peter, Paul and Mary. They have been Officially Showcased at SW Regional Folk Alliance and their CD's have made the Folk DJ "Best of Year" Charts, FAR Charts and the Texas Roots Charts. Their 4th CD, Words and Music was #2 on the Texas Roots Charts and was 4 months on the Folk DJ Charts. It was also listed on "Top Records of 2014" at stations WVPE, WGCS and KEOS, and was a "favorite of 2015" at KEOS. Their newest and 5th album THIS MUCH IS TRUE charted for 3 months and then made the "2017 Folk DJ Top Albums of the Year Charts," with Byrd & Street making the "2017 Folk DJ's Top Artists of the Year Chart."  It has been selected for "Top Albums of 2017" at KBAC in Santa Fe.  Please check website to hear music and for more info: www.byrdandstreet.com
 "This is exactly why I keep playing music on the radio for the past 24 years! Trust me, I get a lot of music here, and this sets the standard for everyone else to shoot for." Norm Mast, WVPE Elkhart IN
Love your new CD!! Your music is full of hope and optimism mixed with a little humor, just what a weary world needs! Listening to it has improved my outlook on life. D. Mahoney, Gladewater, TX
"If I could only listen to one album for the rest of my life it would be Byrd & Street's Words and Music." Jim Fisher, WGCS, Middlebury IN
"I visited places in my heart that I hadn't seen for many years.  Byrd & Street climb into the audience's heads and hearts from the get-go. They set up, then sing from the heart. " Alan Vajdos ,host of Rear Window Listening Room in Ganado, TX,
"You've really raised the bar here for quality performances." Nancy Allen: Faulkner Library, Conway, AR
"Every time I get a new CD from Byrd and Street, I can't wait to play it Their latest is a phenomenal album! I was hooked from the first song on. I can listen to Byrd and Street over and over and never tire. They never cease to amaze me with their melodies, vocals and instrumentation.
Jon Stein WTBQ, Warwick, NY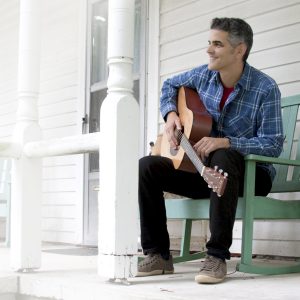 Houston based Jordi Baizan was born into an international and musical family. With his distinctive voice and songwriting, Jordi has the ability to connect with the mind and the heart of the listener. A life of reading, global travel, and multicultural experiences enhance Jordi Baizan's songwriting along with musical influences as varied as Bob Dylan, Neil Young, Jeff Tweedy (of Wilco), and the folk music of the USA, Mexico, Cuba, and Spain. 
Both as a solo artist and as front man and songwriter for his band, QandA, Jordi has experienced growing recognition from audiences on the radio and in some of the best listening room venues in the country. QandA released its third record on January 12, 2016. The first Jordi Baizan solo record will Be released in early 2017. 
Date/Time
Date(s) - May 19, 2018
7:00 pm - 10:00 pm
Location
Thoreau Woods Coffeehouse