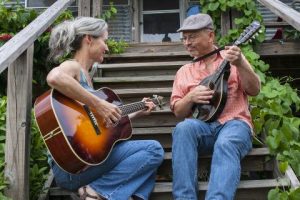 Hamp & Janet is comprised of Janet Drew and Hamp Brockman's original songs make the world a better place if only by making it a more comfortable place to be. Having been raised by folks who went to the cellar for food instead of the store, Janet's songs offer a reminder of how unencumbered life can be. Together, Hamp and Janet celebrate love and life with a variety of acoustic american roots music including everything from jazz to Celtic ballads. Janet and Hamp are both formally trained, accomplished musicians, but Hamp's chops are superior. A jazz studies graduate of the University of North Texas, Hamp will make even the best players turn their heads and notice. Hamp Brockman and Janet Drew posses more than 40 years of combined performing experience. They display a heartwarming synergy that gladdens the heart and offer the delicious sound of two voices that blend like tea and honey.  Hamp is an excellent side man, having appeared on Kerrville's main stage with Tom Prasada Rao, and on recordings with Jim Keaveny, Mike Cooper, and Janet Drew. He is also a frequent "sit in" with San Antonio's Circle Band (Celebration Circle).  Janet is a seasoned folk singer, having played Texas folk venues for 20 years. She has opened for Steve Seskin, Christine Albert, and Michael McNevin and performed with the new thought band, The Light Travelers. Hamp and Janet have opened together for Shake Russell, and Brother Sun.  Their favorite collaboration by far both in music and in life is each other.
http://www.hampandjanet.com/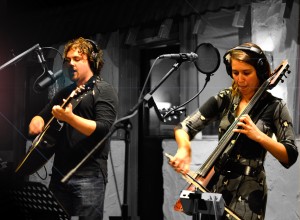 Mystery Loves Company is a touring and recording Chamber Rock band from Houston, Texas, whose diverse musical influences create an edgy and lyrical experience which continues to garner attention in the local and national music scene.  Guitarist Carlos A. Machado and cellist Madeline (Maddy) Herdeman met while performing at an open mic in the fall of 2012.  A week later they got together for an informal songwriting session, and it was evident then that the collaboration deserved their time and effort.  They have since released two full-length albums as Mystery Loves Company, and tour the east coast and Midwest yearly.  Carlos and Maddy combine vocally and instrumentally to produce a layered and intricate sound that translates seamlessly from the studio to the stage.
http://www.mysteryloves.com/about-mlc.html
Date/Time
Date(s) - Aug 20, 2016
7:00 pm - 10:00 pm
Location
Thoreau Woods Coffeehouse