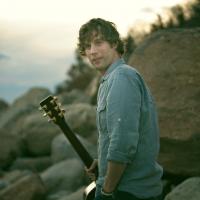 Jesse Terry is a singer/songwriter with an uncanny ability to weave tales of travel and homecoming, of sorrow and of redemption, into songs that are simultaneously timeless and fresh. Home is now the coastal village of Stonington, Connecticut, but Terry's music reflects an amalgam of influences, from Nashville to Laurel Canyon. His melodic and lyrically-driven Americana fits naturally on a playlist between cuts from Josh Ritter, Jackson Browne, Ryan Adams and Neil Young.
Jesse is fresh off an appearance at Bonnaroo where he shared the stage with the likes of Gregory Alan Isakov, Bear's Den and Guster. Bonnaroo also featured Terry on their 2015 NoiseTrade Mixtape alongside artists such as Brandi Carlile, Hurray for the Riff Raff, and Benjamin Booker. In August, Jesse performed four times at the legendary Philadelphia Folk Festival, whose headliners included Lyle Lovett, Arlo Guthrie and North Mississippi All Stars. Terry's music was also recently included on Birdstone Records' "Independent Celebration, Vol. 1" accompanied by songs from Ben Taylor, Rachael Yamagata and Grant-Lee Phillips.
"I think I always needed music," Terry explains. That simple truth encapsulates the style of an artist whose lyrical depth has garnered multiple songwriting accolades. The buzz over Jesse Terry continues to build, with tours bringing him from coast to coast and across oceans to the UK, Italy, the Netherlands, and New Zealand. His music has appeared in CW's Hart of Dixie and PBS's Roadtrip Nation. Earlier this year, ABC used "Stay Here With Me" for its series "Forever."
Terry's star is on the rise, and it's no surprise. Through the course of four releases, The Runner (2009), Empty Seat On a Plane (2012), Stay Here With Me (2013), and The Calm & The Storm (2015), Terry draws from a wellspring of emotional depth and combines it with performance skills honed over hundreds of shows and hundreds of thousands of miles on the road. The result is a palette ranging from poetic ballads to uptempo, rootsy pieces, always beautifully crafted and displaying sweet wistfulness and heartache. This is music that explores the contrast of light and dark, with a core that is timeless and authentic. Jesse Terry's superlative new EP, The Calm & The Storm, captures both the intimacy of his live performances and his thoughtful compositional style, with choice layers of harmonies and instrumentation that evoke the landscapes and faces of the road, the trials and the joys of a traveling troubadour.
Jesse Terry's "melodies ring with instant accessibility and a clear connection, conveying a brilliance and clarity that most veteran artists still strive for" (No Depression). His "well-crafted songs rank right there with Ryan Adams, Rhett Miller and other masters of alt-country" (WFUV-NYC). A gentle warmth runs through Terry's voice, and his lyrics, while grounded in gritty wisdom acquired through years on the road, offer up hope for a kinder tomorrow. Arranged around acoustic guitar and subtly augmented by strings, piano, percussion and achingly beautiful harmonies, Terry's music is elegantly spare, capturing the eternal tug-of-war between head and heart, the pull of the road and the longing for return.
Terry has an undeniable talent for connecting with his audience – to share stories that are personal, yet utterly relatable – to create a sense of home, even among the strangers he meets on the road. And that is the gift of Terry's music — in a song, he gives us a promise of a place to call our own.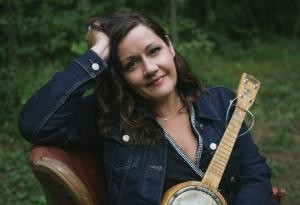 After 3 1/2 years of hard touring, 150-200 shows annually, Nikki continues traveling on, bringing her gorgeous voice & thoughtful songs all across the nation. Hailing from the mountains of western North Carolina, it's only fitting that her songs are as eclectic as the state that boasts the mountains and the sea. Along with her guitar & clawhammer style banjo, her musical partner & husband Jason Sharp adds resonant lush guitar tones as well as harmonies to round out the duo's sound.
Out From The Harbor is a collection of 10 songs recorded at Asheville's Echo Mountain Studio. With only a few other additions to the record, including Michael Ashworth (Steep Canyon Rangers) on bass & tasteful percussion, the stage is set for Nikki's soulful vocal and storied lyrics while Jason Sharp's guitar soars alongside.
Date/Time
Date(s) - Apr 9, 2016
7:00 pm - 10:00 pm
Location
Thoreau Woods Coffeehouse