LAURA MARIE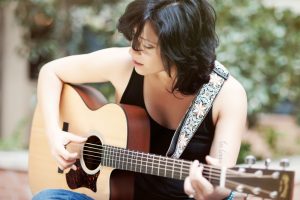 "Maybe you're a lost cause…or maybe you're a dark horse just like me."
Laura Marie's message to the world exists on a plane that reaches far beyond music, but thankfully she is one of those writers gifted enough to focus the roller-coaster of the human condition into song. She is currently promoting her fifth solo studio release Stars Apart, a beautiful blend of pop-folk and adult contemporary influences. Laura Marie offers some peace within the chaos of life through music, both for herself and as an offering to the world.
The South Texas native grew up steeped in poetry and music, earning her degree in music education and paying her dues in bands in Central Texas and beyond. There have been awards and accolades since. She won the OurStage Texas Lilith Fair Competition in 2010 and was a Regional Finalist in the Mountain Stage NewSong Contest in 2010 and 2014. Audiences are continually drawn in to Laura Marie's performances because of her honesty and passion. David Crabb from the Austin Acoustical Cafe noted, "Laura Marie captured the hearts of our audience with her energy, and she warmed the stage and the room with her talented performance."
Accolades:
2016 Showcasing Artist – Southwest Regional Folk Alliance
2016 Music Project Songwriting Contest, 1st Place Winner
2014 Independent Music Award Winner Folk/SingerSongwriter Song
2014 SouthWest Regional Finalist Mountain Stage NewSong Contest
2013 Showcasing Artist – Southwest Regional Folk Alliance
2013 Semi-finalist Songwriter Serenade
Artist of the Year 2011 -Texas Music Coalition
2010 SouthWest Regional Finalist Mountain Stage NewSong Contest
WINNER #1 Artist OurStage Texas Lilith Fair Competition 2010
WINNER of the 4th Annual TMC Music Video Showcase – Best Song
Indie Artist of the Month (Apr/May 2009) – Americana Music Times
Compared to:  Natalie Merchant, Chrissie Hynde, Tracy Chapman, Norah Jones, Diana Winter, Gilli Moon and The Mary Dream
For more information, go to http://www.lauramariemusic.com/.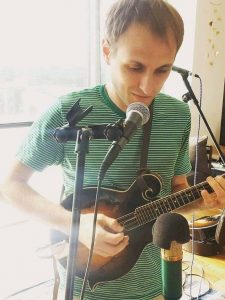 ADDISON FREEMAN is a multi-instrumentalist well versed in violin accompaniment for Texas folk artists.  Addison has recently taken his passion for songwriting public. Now with guitar in hand, he croons along soulful fingerpicking compositions and clever chord choices with a tenor voice as if he were "singing the strings".
Date/Time
Date(s) - Oct 21, 2017
7:00 pm - 10:00 pm
Location
Thoreau Woods Coffeehouse