Rupert Wates was born in London and studied at Oxford University. He has been a full time songwriter since the late 1990s, when he signed a publishing contract with Eaton Music Limited. His contract required him to write material in all kinds of styles and genres, for all kinds of artists. He worked extensively with Jazz vocalist Liz Fletcher, and wrote the album 'Blue Afternoons' (Mainstem, 2002) specially for her voice. Moving in 2001 to Paris, Wates formed his own quartet and began playing live regularly. In fall 2006 he came to the US. He is now based in New York City and Colorado.
Since coming to the US, Wates has won more than 30 songwriting awards (www.rupertwatesmusic.com/awards).
His music is an eclectic mix of acoustic, melodic art/folk, with flavors of jazz, vaudeville and cabaret. He has released seven solo CDs. They have been very well reviewed in the online press and tracks from them have been played on radio all over the world. Wates' songs have been recorded by other artists in the UK, Canada and the US. In 2015, Nashville-based performer Roxie Rogers released Crazy Puzzle, an album of songs from Wates' back catalog. Rogers is the first independent artist to record an entire album of Wates' material.
In 2010 Wates released Joe's Café, an album of 15 original songs based on true stories, each interpreted by a different vocalist, retelling the stories of ordinary American people. Through them we trace the story of America itself: through two world wars, the Dust Bowl depression, Vietnam and the struggle for Civil Rights, all the way to the present day. Recorded live in the studio in a single weekend, the album's warm sound evokes the welcoming atmosphere of an all-night café, where friends gather to share their stories. Featured virtuoso musicians on the recording include Darol Anger on violin and Michael Manring on bass.
Joe's Café has been presented very successfully at Festivals throughout North America and in other venues in New York City and in the southeastern United States. The show won Best Music Revue in the 2010 San Francisco Fringe Festival.
Rupert Wates averages 120 live shows every year, in acoustic venues in every state in America, in Canada and in Europe. He performs sometimes alone, sometimes with his trio or his quartet. Wates was voted an Artist Of The Year 2013 by the international house concert network Concerts In Your Home (www.concertsinyourhome.com), and in 2015 he was recognized as their most booked performer, having secured well over 100 dates through their database.
In 2014 Wates joined forces with Toronto-based virtuoso pianist Bartosz Hadala to form a piano/guitar duo called The Nightwatchers (www.thenightwatchers.com). The duo tour Europe regularly. In March 2015 they released a debut CD entitled The Nightwatchers, recorded at Phase One Studios in Toronto and featuring some of the standout songs of Wates's extensive catalog.
Despite Wates' British background, and underpinning the universality of his music's appeal, Folk And Acoustic Music Exchange has called him "a prime figure in American music" (www.acousticmusic.com) and goes on: "This is one gifted sonofabitch… If you're not hip to this guy yet you're missing out."
Audiences everywhere respond to Wates' brand of melodic art/folk—haunting songs that ring true.
– See more at: http://www.rupertwatesmusic.com/bio#sthash.tBFAanB9.dpuf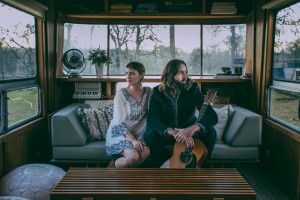 Based out of Austin, TX, Kelley McRae called Brooklyn home for years before teaming up with guitarist Matt Castelein in 2011, when the duo traded in their NYC apartment for a VW camper van and hit the road full time. Thousands of miles and hundreds of shows later, they've toured coast to coast in the US, played to packed rooms across Europe, sold-out the Bluebird Cafe in Nashville, and continue to build a passionate and dedicated following on the strength of their live show.  Kelley's latest album, "The Wayside", will be released in 2016 with tours in both Europe and America.
Date/Time
Date(s) - May 21, 2016
7:00 pm - 10:00 pm
Location
Thoreau Woods Coffeehouse