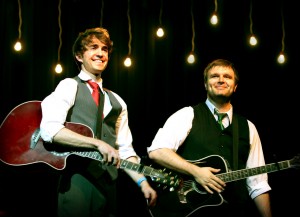 NAMED "BEST GROUP/DUO" in the 2014 International Acoustic Music Awards (IAMA's), acoustic-duo Ryanhood got their first break more than a decade ago as street-performers at Boston's Quincy Market. It was there that Ryan Green and Cameron Hood were spotted by a college booking agent and thrust into the college touring scene, where Campus Activities Magazine would soon name them "one of the most requested acts by college buyers all across the country."
The two first met in high school, where they were separated not just by a grade (Hood being a year older) but by a respectful rivalry between their two rock bands. Hood and Green would face off annually in the Battle Of The Bands, and although Hood's band would ultimately win two out of the three competitions, Green managed to impress him and the rest of the school with his abilities on the guitar, which would ultimately earn him a scholarship to Boston's prestigious Berklee College of Music.
Cameron enrolled as an art student at the University of Arizona, and they started what they would call "a long-distance musical relationship", mailing each other minidiscs of new song ideas and getting together during academic breaks to rehearse and perform. Within weeks of graduating college, Cameron took a leap of faith and moved to Boston to join Ryan. Determined to make a living as musicians, Ryanhood became full-time street performers at Boston's historic Quincy Market where they developed a rapport with audiences that has become a hallmark of their shows.
They soon took this high-energy, highly-interactive street-performers approach to the college market, where they quickly became one of the most popular bands on the circuit, playing upwards of 130 college dates a year. Cameron Hood's rich and folky lead vocals, Ryan Green's explosive guitar and mandolin riffs, and their airtight vocal harmonies prompted the Arizona Daily Star to call them, "a match made in radio heaven."
They would go on to tour with Jason Mraz, record an album with grammy-winning producer Ross Hogarth, share stages with Matt Nathanson, Train, American Authors, and Lifehouse, and even get tweeted about by Ellen DeGeneres. Ryanhood has collectively performed more than 800 shows in 42 U.S. states, where their cross-generational sound has been equally at home in colleges, coffee-houses, concert halls, churches, and living rooms.
And now, ten years after their street start, Ryanhood's star is still on the rise as they were named "Best Group/Duo" in the 2014 International Acoustic Music Awards (IAMAs). Their fifth and newest album, Start Somewhere, finds the band returning to the intimate storytelling and acoustic guitar interplay that was a hallmark of their early work as buskers.
They currently reside in their hometown of Tucson, AZ, where they have won more than a dozen Tucson Music Awards including "Best Folk Band" and "Best Rock Band" (you can decide for yourself which is most accurate).
For more information, go to http://www.ryanhood.com/.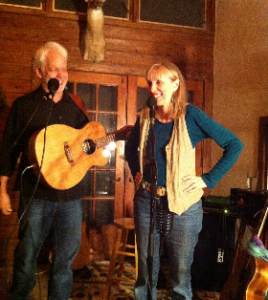 Young and Rusty is a Folk and Americana duo from Austin, Texas. Sue Young's pure voice and Rusty Nelson's rough edged vocals combine in a perfect blend. The songs and sound on their debut recording Back Road Loveevoke a simpler time; cruising down a country road, wading in a cool creek, or taking a ferry boat ride across the Mississippi.
Sue Young's voice has been called "angelic" and "powerful medicine". Growing up in a musical family, Sue cut her teeth on Joni Mitchell, Joan Baez and Judy Collins. Along with a pristine voice and perfect pitch, Sue developed a distinctive finger picking style. The combination got her steady work at clubs and restaurants in Albuquerque and Santa Fe. In 1985, Sue moved to Austin and turned her attention to writing songs. Her efforts were rewarded and she became a four time Kerrville New Folk Finalist. During this time, Sue started writing inspirational songs and singing in churches throughout Texas. She also began teaching music and Spanish to kids, which led to a vibrant career as a children's entertainer and landed her on the Texas Commission On The Arts Artist Roster. Her 2012 CD "Gliding" returned to her folk roots and earned her a 2013 Texas Music Awards Nomination for Female Vocalist Of The Year.
Rusty Nelson grew up in Lafayette, Louisiana and in Corpus Christi, Texas. In 1989, he was minding his own business working in the advertising business in Austin when he started writing songs. A year later, Rusty signed a writing deal with a Texas based publisher that had connections to Nashville. In 1996 he took the plunge and moved to Nashville. In 2002, he returned to Austin, feeling pretty much done with music. Rusty got his life back through an intense yoga practice and study of the Gurdjieff Work.
In 2009, Rusty approached Sue after one of her church performances. With a lyric in hand, he asked Sue if she might be interested in a song that he had started. Not long after that meeting, Sue and Rusty teamed up to write together and the results were magical. Soon they were performing together, bringing their unique songs and chemistry to the stage.
Their 2014 debut EP release "Back Road Love" made the Folk DJ charts and the top 30 albums of 2014 on Al Kniola and Norm Mast's "The Back Porch on  WVPE FM. "Back Road Love" received airplay in North America, Europe and the Pacific.  A follow up CD is in the works.
"Great songs, great playing… it's a joy to listen to" – Noel Casey, Host: After Midnight, Dublin City FM
"…the songs speak for themselves… From Irish flavored toe tappers like "Back Road Love"  to ballads and love songs "Take Me" the record is polished and tight." – Tom Tranchilla, Host: Songwriters Studio, KPFT 90.1 FM, Houston, Texas
"...relaxed, warm, flawless singing." – Freddy Celi, Rootstime.be
For more information, go to, http://www.youngandrusty.com/.
Date/Time
Date(s) - Sep 24, 2016
7:00 pm - 10:00 pm
Location
Thoreau Woods Coffeehouse