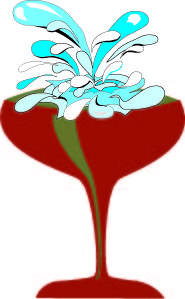 Sunday, September 23rd, we will gather in community to practice our yearly Water Communion. This rite celebrates coming back together after a summer of vacation and leisure. During this ceremony we remember the power of water, its strength, its flexibility, its life-giving status. Water may be the most important miracle ever.
So, on the 23rd please bring a small vial or container of water that symbolizes the places, either mentally or physically, that you have been this past summer. If you didn't keep a sample of water from this last year, just bring a representative vial of tap water. Honestly, we won't test the sources of the water.  A pitcher of representative water will be available for those who forget their water.
Instead of listening to a speaker, Fellowship Sunday is a time for members to share topics and themes of concern and interest with others in the congregation.  A potluck lunch will follow.
Date/Time
Date(s) - Sep 23, 2018
10:30 am - 11:30 am
Location
Thoreau Woods Unitarian Universalist Church