On Sunday, January 20th, Andrew Delaney will speak on "Rise & Shine"

Summary:  I'm a mentally ill person. It is a thing that seems to affect every aspect of my life in one way or another. My experiences have taught me a lot about my own humanity, and therefore the humanity of others. It strikes me that every individual I meet is seeing the world in different ways – perhaps profoundly different ways – and I hope to spread the message, – through my stories and songs – of meeting people where they are and understanding people as they are.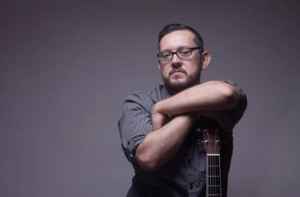 Andrew Delaney of Arlington, TX has been an unorthodox voice in the songwriter scene for a decade now. In that time, he has self-released nine full-length albums, won numerous accolades for his writing, and had his songs recorded and performed by artists all over the United States. He is a consummate storyteller, often hilarious and heavy in the same breath. Delaney's ability to entertain even while speaking on the darkest of subjects led Rich Warren of WFMT Radio, Chicago to call him "The Alfred Hitchcock of singer/songwriters." Andrew's newest release "Whatever Still Remains" is primarily a home enterprise with Delaney playing producer and engineer after spending his last three studio efforts studying over the shoulder of Grammy winner Steve Christensen (Steve Earle's "Townes"). On "Whatever Still Remains", Andrew embraces his unapologetic love for things like monster movies, Andre The Giant, and The Rocky Horror Picture Show, and uses them to frame up univers
al
stories of wonder, loss, and the search for belonging. The album features guest appearances by folk notables Ordinary Elephant, Justin Farren, Alice Wallace, and Mia Rose Lynne – among others. Delaney continues to build his reputation in the folk world with his selection to the 2018 Falcon Ridge Folk Festival's Emerging Artist Showcase. His past accomplishments include: winning the 2017 Songwriter Serenade; performing as a finalist in the 2017 Rocky Mountain Song Contest at the Rocky Mountain Folks Festival; being named an Official Selection at the 2017 H.P. Lovecraft Film Festival in Portland, OR for his music video directorial debut "Howard"; and playing the main stage at the Kerrville Folk Festival in 2016 after being a finalist in the famed Kerrville New Folk Competition in 2015, 2013, and 2010. 2018 also finds Andrew producing records for Dallas, TX songwriter Justin Pickard and Denver, CO's Emily Barnes.
Date/Time
Date(s) - Jan 20, 2019
10:30 am - 11:30 am
Location
Thoreau Woods Unitarian Universalist Church