On Sunday, February 17, 2019, songwriter and folk musician, Pia Leinonen, will speak on "Your House Is On Fire!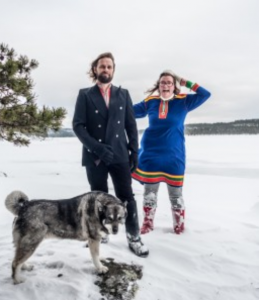 "
"Our house is on fire. I am here to say, our house is on fire. – I want you to act as you would in a crisis. I want you to act as if our house is on fire. Because it is." This was the message that Greta Thunberg a 16 year old climate activist from Sweden brought to the leading economists of the world when they held their meeting in Davos in Jan 2019.
On August 20th 2018, Thunberg, then in ninth grade, decided to not attend school until the 2018 Sweden general election on September 9th after heat waves and wildfires in Sweden. Her demands were that the Swedish government reduce carbon emissions as per the Paris Agreement, and she protested via sitting outside the Riksdag every day during school hours with the sign Skolstrejk för klimatet (school strike for the climate).
This young climate activist has gained worldwide attention
with sitting outside the Swedish Parliament during school days with a sign saying "School Strike for
Climate" demanding that the Swedish government should reduce carbon emissions as per the Paris Agreement. In December 2018 she was invited to attend the United Nations Climate Change Conference where she denounced world leaders for their inaction and told them that since our leaders are behaving like children, we will have to take the responsibility they should have taken long ago.
"Our civilization is being sacrificed for the opportunity of a very small number of people to continue making enormous amounts of money… It is the sufferings of the many which pay for the luxuries of the few…You say you love your children above all else, and yet you are stealing their future in front of their very eyes…"
The message of this young activist rings true and is aligned with the message that IPCC (UN Intergovernmental Panel on Climate Change) gave us in October 2018 saying that we have 12 years to limit climate change catastrophe. Urgent changes needed to cut risk of extreme heat, drought, floods and poverty.
So we need to act and we need to do it soon if we are to leave a liveable world to the future generations but what can just one person do? What are you willing to sacrifice to save this world?
Songwriter and folk musician Pia Leinonen talks about the possibilities we all have to help with preventing the climate catastrophe and about the human connection with nature that has inspired many of the songs she's written. Come and be inspired by this musical sermon that is accompanied by Joni Tiala, the renowned guitarist who together with Leinonen form the Finnish folk duo Vellamo.
Date/Time
Date(s) - Feb 17, 2019
10:30 am - 11:30 am
Location
Thoreau Woods Unitarian Universalist Church