On Sunday, February 24, 2019, Alfred Corchado  will speak on "What Can You Do?"
Thoreau Woods Unitarian Universalist Church will be sharing a special service/guest speaker with the Huntsville Community. Alfredo Corchado, wh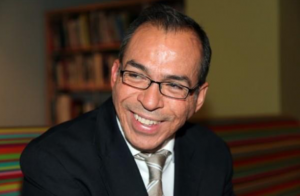 o will receive the Walker County Democrat Club's prestigious Molly Ivins Defender of the First Amendment Award at a dinner Saturday evening, Feb. 23, will share his story and the story of today's Mexico- US border during our regular 10:30 a.m. service. Corchado, currently Mexico City bureau chief of The
Dallas Morning News, is an award-winning Mexican- American journalist and author who has covered Mexico for many years. He specializes in covering the drug wars and the US-Mexico border, writing stories on topics such as drug cartels and organized crime, corruption among police and government officials, and the spread of drug cartels into U.S. cities.
The Nieman Foundation for Journalism says he has "described mass shootouts that no one else writes about, obtained and described videos of revenge executions, and revealed how the few arrested for the mass murder of women in Juarez are often innocent stooges." Howard Campbell, author of Drug War Zone, has called Corchado "the top American journalist covering Mexico today" whose "knowledge of the Mexican political system, the drug trade, and modern Mexican society is non-pareil."
He was born in Durango, Mexico as the oldest of eight children, and was raised in California and Texas. When he was five years old, his mother, in despair over an accident in which his younger sister died, decided to leave Mexico.[3][4] Taking him and his siblings, she and his father migrated legally to the United States when he was six to the San Joaquin Valley in California, where Corchado's parents became migrant farm workers. He worked the fields alongside his parents, who were members of the United Farm Workers union led by Cesar Chavez. When he was thirteen, PBS interviewed him for a piece on the lives of migrant workers.
After the family moved to El Paso he attended school, continued to work, graduated from El Paso Community College and later the University of Texas. He has worked for several newspapers, including the Wall Street Journal and has been a Woodrow Wilson Scholar at Harvard University as well as a Harvard Nieman Fellow.
He is the author of two books. The first, "Midnight in Mexico: A Reporter's Journey," describes his reporting on Mexico's descent into violence and the rise of the cartels. His just-published book "Homelands: Four Friends, Two Countries, and the Fate of the Great Mexican-American Migration," views the great Mexican migration to America through his own eyes and those of three friends who struggled with feet in two nations as they grew into adults and started careers.
Corchado lives in El Paso and considers the Border his true home.
A Potluck Lunch will follow the service.
Date/Time
Date(s) - Feb 24, 2019
10:30 am - 11:30 am
Location
Thoreau Woods Unitarian Universalist Church