On June 2nd, Meg and Todd Hoke will speak on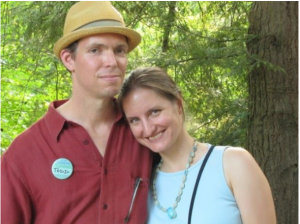 ​​​​​​​"The Act of Being"
"The Act of Being" builds on the themes Todd and Meg have spoken on before – paying attention to the world around, deciding how you will relate to it, and then sharing and connecting with it.   In this presentation, Meg discusses her experiences in "BEING" through her work with inner city kids and hospice and how the experience of the very personal and profound connects us.   As Meg talks, Todd plays music echoing these sentiments.  It's a little bit of a quieter, more poignant presentation than their last presentation, but they hope you will find it to be uplifting and powerful as well.
Meg and Todd met in the early 90's while serving as full-time volunteers at a residential hospice for people with AIDS in Baltimore.  They have worked in health-care related fields ever since.
The daughter of a Methodist minister and of a teacher/community advocate, Meg holds a Master's degree in Social Work.   She worked in Austin, TX with community organizations serving clients with HIV, AIDS, and cancer until moving to Hendersonville 13 years ago.  She currently works for Care Partners Hospice in Asheville and stays active in local politics.
Todd grew up in Conroe, TX.  Besides being an RN at a hospice house, Todd is a singer-songwriter with 4 recordings under his belt and is working on more.  Besides playing solo gigs, he is part of a trio that plays a "Gospel" Brunch at a local brewery, which has become quite a community event.  His favorite venues are house concerts and any listening room that serves good craft beer.
Other things you might want to know about Meg:  She can talk for hours about her dogs.   She cannot whistle but she can play "Piano Man" on the ukulele.  She is not afraid to wear big flowery hats in public.
Other things you might want to know about Todd:  He has run 11 marathons. He has 5 recordings. He has never been in a barfight, but has provided music for one.  He donates 100% of the money from CD sales to charity.
Date/Time
Date(s) - Jun 2, 2019
10:30 am - 11:30 am
Location
Thoreau Woods Unitarian Universalist Church