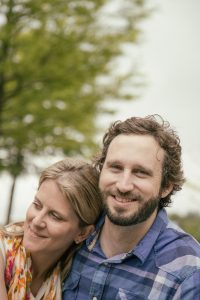 Every person longs for a sense of home.  Jess and B. Sterling will share stories and songs that reflect this universal longing.  Jess has written a memoir about moving around the world, essentially feeling homeless most of her childhood.  In the last three years Jess also co-founded the art exhibit, "Refugee is Not My Name" about refugees from around the world that have resettled in Austin.  Jess will tell stories and show beautiful photographic images from the exhibit that highlight the universal desire to feel at home.
B. Sterling Archer is an award-winning singer/song-writer, who's performed extensively throughout the country at house concerts, music venues, and festivals (including the Kerrville Folk Festival).
Jess Archer is a mother of two kids, a free-lance writer and poet.  Her memoir, Finding Home with the Beatles, Bob Dylan and Billy Graham is about moving around the world as a child with the Billy Graham Evangelistic Association.
Find Jess and B. Sterling Archer at archercollaborative.com.
Date/Time
Date(s) - Jul 7, 2019
10:30 am - 11:30 am
Location
Thoreau Woods Unitarian Universalist Church