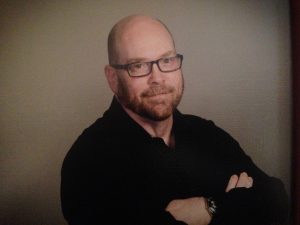 On Sunday, ​August 11, 2019, the Rev Adam Robinson will talk on
"Óur Good News"
I believe throughout these last couple of millennia evangelism has become skewed and misused in ways that are damaging for all. I believe the original intent and understanding
of evangelism had little to do with preparation and nothing to do with ardent proselytization.  I believe it was and is meant to be natural and organic. I very much believe it should never be threatening or overbearing.   When I am with you I would like to explore this a bit. Then with whatever time we have  left I'd like to share a little of my good news with you all.
Ordained in 1992 at his childhood church, Maple Lawn Christian Church (Joliet, IL), Rev. Adam has always tried to be ready to share his ministerial gifts and abilities whenever and wherever they are called for. He has served as both a volunteer and paid minister in both churches and parachurch organizations. From his work with the homeless at the Inner Cities Ministries (Springfield IL) thru his time sharing with you all as a regular speaker in the pulpit at Thoreau Woods UU Church he has been shaped by the progressive revelation and discovery of the Divine he understands as God. He and his dog, Chewbarka (Chewy), enjoy country life at their home at Lakeside Village in rural San Jacinto County, Texas.
Date/Time
Date(s) - Aug 11, 2019
10:30 am - 11:30 am
Location
Thoreau Woods Unitarian Universalist Church