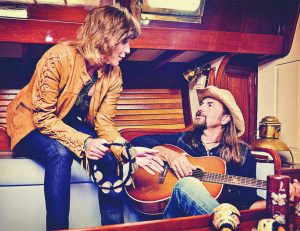 They will present a "songinar", which blends words, songs, and stories about acceptance, tolerance, and understanding.
These stories stem from over 30,000 miles of offshore sailing they have done together that have taken them across the Atlantic to foreign shores where it becomes very clear how good people are.
Well-traveled Virginia troubadours and sea captains, Mike and Amy Aiken, have logged over 30,000 bluewater miles sailing and have lived aboard sailboats for 25 years.  The Aikens love for singing, songwriting and sailing has taken them all over the world. As a songwriter, Mike puts pen to paper and shares their colorful experiences. Aiken has drawn tales – and hope – from trail riders, aging rodeo champs, sea captains, Rastafarians and outlaws on the lamb to draw the threads of these independent spirits together. An inner sense of chivalry oozes from every story he tells and every song he sings. You can expect to hear poignant tales, upbeat, rootsy grooves, percussion and harmony vocals that take you to the heart of a small world.
As an artist who comes by his stories honestly, Aiken has definitely taken his place among well-respected songwriters and musicians in the Americana and Roots communities. Captains & Cowboys, Aiken's sixth studio album, earned him critical acclaim from the media and his peers, including a Grammy nomination. His seventh studio album will be released early in 2018.
In their off time, Mike and Amy team with Smithfield Music to benefit youth music education and produce the two day Aiken & Friends Music Fest in Smithfield, Virginia.
"The audience hooped and hollered and stomped it's feet! With his stories and songs, it was like an old friend singing on your back porch. Mike's music gave an original edge that kept everyone entertained. "
– Mark McCreary, Ross Ragland Theater
"Mike Aiken took the crowd on an exotic adventure, to the farthest Isles of the Caribbean, the Appalachian Mountains and beyond.  Mike warmed the audience during his Tall Tales and Troubadours show with the stories and songs of his journeys, across oceans and highways and was rewarded with a standing ovation…"
– Paul Shugrue, WHRV -NPR   
Learn more about Mike Aiken at MikeAikenMusic.com. Live videos of are available on Mike's YouTube channel – youtube.com/MikeAiken.
Date/Time
Date(s) - Oct 20, 2019
10:30 am - 11:30 am
Location
Thoreau Woods Unitarian Universalist Church