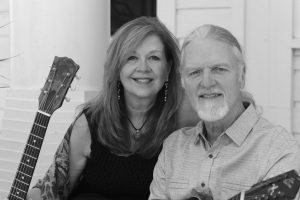 A note from Lynn & Lindy:  As we reviewed the UU Seven Principles, immediately original songs from our repertoire lept out to us as reflections of each principle. The songs titles in order are: The Legacy, Do Justice Love Mercy, Making a Memory, River Wide River Deep, A Celebrated One, Send Them Love and Morning Watch. You are welcome to listen online to each of these songs on our page at Bandcamp.com. The listening is FREE. We look forward to our time together soon, and to sharing the stories behind our songs.
ADLER & HEARNE | The Song Farmers… a spirited blend of original 'Texas Folk.'
From outside the rural arts hamlet of Winnsboro in the upper east side of Texas, award-winning performing songwriters Lynn Adler and Lindy Hearne (AKA The Song Farmers) tour nationally, serving up jazz- and blues-infused original songs in a genre they define simply as Texas Folk. Honored to be selected by the Texas Commission on the Arts to serve on the state's official Texas Touring Roster, the duo enjoys the title of Official Texas Touring Artists for the September 2018-2020 touring season. (They've served on the roster since 2014.)
Adler & Hearne's music has grown deep roots in the pineywoods of their Spring Hollow Organic Song Farm. In 2016, the duo celebrated 15 years of organic song farming (A.K.A. writing songs with roots in real life) with the October release of their fifth duo recording "Simpatico" – a self-produced, double CD featuring 24 original songs in their signature brand of 'Folk with Spirit.' A number of songs on the new bare-bones recording feature seasoning added with a light hand, from guest musical artists Lloyd Maines, Glenn Fukunaga and Pat Manske. And though released late in the year, the CD was named among the official FOLK DJ Top CDs of 2016.
Adler & Hearne's 2014 release "Second Nature," was produced by Texas music legend Lloyd Maines, and made the FOLK DJ Top 10. Their 2012 release "Adler & Hearne Live at Eddie's Attic," showcases songs from a June 2011 concert on that venue's legendary stage in Decatur, GA, and features special guest Michael Johnson with whom they co-billed on that summer night. Returning to Nashville (the city where they first met), Adler & Hearne made their debut studio recording "To The Heart" – produced by Rick Clark, released in 2009, and in 2010 named among the Top 20 releases by the FOLK DJ community. In 2005, the couple released their first duo CD in the form of a live, house-concert recording aptly named "Opposites Attract." Also of note, due to Lindy Hearne's family tree connection to both Michael Hearne and Bill Hearne, two Adler & Hearne songs were included on 2017's "The Hearne Family Album" release on Howling Dog Records. The husband-wife duo will record a new CD in Spring of 2020 as new members of the Howlin' Dog Records family!
Their musical formative years share common experiences in folk, classical and gospel music – organic influences that inform their singing and songwriting. But the subject matter of their songs knows no bounds, nor does their musical style. Adler & Hearne's live sets range from harmonic convergence on songs of love and longing, losing and finding – to covering touchy subjects with unexpected musical overtones – to camping it up with modern day spirituals steeped in dry wit. Think song circle between Johnny and June Cash, Antonio Carlos Jobim and Astrud Gilberto, and Gordon Lightfoot and Joni Mitchell.
Date/Time
Date(s) - Dec 8, 2019
10:30 am - 11:30 am
Location
Thoreau Woods Unitarian Universalist Church