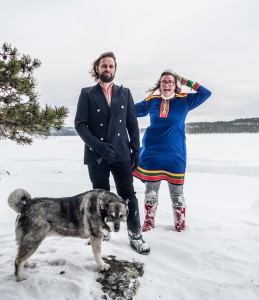 People love constancy, familiar things around to create the feel of stability and safeness. Both are good things to have, but if we get too attached to the status quo the change might become an enemy; something scary that presents a potential threat, something that might make you have to move outside of your comfort zone. Fear is a good feeling to know – there are times that it might save your life. But there are also "false" fears, the feelings that keep you from reaching for your dreams and growing as a human being. How do we keep ourselves open to change and learn how to trust life to carry us when we do take the leap of faith!
This will be a spoken word and musical sermon by Vellamo, which is the performing and songwriting team of Pia Leinonen and Joni Tiala. Their music is characterized by haunting melodies, Pia's ethereal lead vocals and Joni's virtuosic guitar stylings. In Finnish mythology, Vellamo is the goddess of the sea. Based in Kokkola, on the western coast of Finland, Vellamo combines the rich tradition of Finnish folksong with an appealing "retro" sensibility, creating a modern folk music experience.
Pia Leinonen, originally from the arctic region of Lapland, is Vellamo's lead singer. Her exquisite voice combines her love and vast knowledge of Finnish folk music with the western singer–songwriter tradition in a unique and beautiful way. Her moving and evocative expression has been compared to other story-centric performers such as Joan Baez and Marlene Dietrich.
Joni Tiala, originally from the Finnish port of Kokkola, began playing guitar at the age of 11. His eclectic musical background includes writing and performing for theater, progressive and alternative rock and Finnish and western folk. In addition to his work in Vellamo, Joni is an accomplished theater and session musician, and is founding member of the renowned Finnish progressive rock band, Moonwagon.
In addition to shows in their homeland, Vellamo spends half of each year touring abroad; their adventures have led them throughout the United States, Europe and New Zealand.
Vellamo released their first album in early 2013. The album was engineered and co-produced by Ken Anderson at Song Catcher Recording – studio in Vermont, US. This renowned folk musician (Hungrytown) also plays drum and bass tracks on the album. The tone of the album is clear and bright, respectful of tradition yet sounding fresh.  It features both original and traditional songs.
"There's so much to like about Vellamo's music, which has a strong, and intensely appealing, retro feel – kinda Trader Horne/first-album Fairport, maybe more than a hint of the Fariñas, with a touch of early-electric-Dylan/McGuinn jangle, get the picture? "  David Kidman / FATEA Magazine (UK)
The second album Trad came out in June 2014 and was recorded with a full band featuring bass player Janne Ylikorpi and Timo Tikkamäki who are part of Vellamo's band assembly. This folk-rock gem contains beautiful arrangements of traditional songs from the Finnish and Scandinavian traditions.
Vellamo's third album "Koskenkylä" (Whitewater Village) is named after songwriter Leinonen's home village. This versatile modern Nordic folk album features all original material written both in English and Finnish and was released in November 2015.
"Nothing appears artificial, excessive or posed." Max W. Achatz/ Country Jukebox (Germany)
Date/Time
Date(s) - Feb 21, 2016
10:30 am - 11:30 am
Location
Thoreau Woods Unitarian Universalist Church