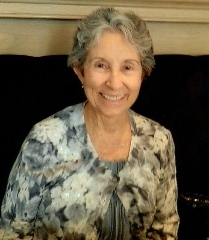 Anne recently read an article in the UUWorld entitled "Better Than Human? She will be sharing her thoughts on the article and leading a discussion.
Anne states: I was born in Aberdeen, MS on Dec. 30, 1933.  My Dad had "itchy feet" and we moved often-Several places in MS, Boston, Massachusetts, the island of Aruba, and Georgia, before landing for my high school years in Phoenix, AZ.  I graduated from the Univ. of AZ in 1955 with a degree in Political Science.  I  married Kelley Sigler there, and we moved to Oregon for him to get his degree in Forestry from Oregon State.  Our 4 daughters were born in Oregon.  Then, we began moving too-to KY, LA, and finally to Huntsville-where we stayed!
I taught Civics and History at New Waverly H.S. and Remedial Reading at Gulf Coast Trades Center in New Waverly.  I've been a UU since a dear Quaker friend told me on an Oregon Beach Walk, "You sound like a Unitarian."  Luckily, my husband and I both were and we raised our children that way-even though we never lived where there was a Unitarian Church until the children were all school-age.
I love being "retired" and am trying to balance the 3 goals I set for myself
for my "old age"-to travel, support my church and the Democrats.
Date/Time
Date(s) - Mar 6, 2016
10:30 am - 11:30 am
Location
Thoreau Woods Unitarian Universalist Church