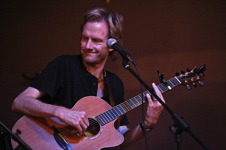 Rupert will talk about life as a journey.
The aim of all our exploring will be to arrive where we started and know the place for the first time' (T S Eliot, 'Little Gidding')
Rupert Wates was born in London and has been based in the US since 2007.  He is the winner of well over 30 songwriting and performing awards.  He has released 8 solo CDs, tracks from which have been aired on radio all over the world.  He averages 120 live shows every year, in acoustic venues in every state in the US, in Canada and in Europe.  Despite his British origin, Folk And Acoustic Music Exchange has called him 'a prime figure in American music', and goes on 'If you're not hip to this guy yet, you're missing a lot' (www.acousticmusic.com).
Date/Time
Date(s) - May 22, 2016
10:30 am - 11:30 am
Location
Thoreau Woods Unitarian Universalist Church