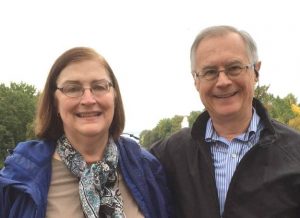 David will discuss the critical role of UU's in international human rights, including the work of the UU United Nations Office in New York.  He will touch on our deep UU heritage of active support for global rights, including in areas such as peace, women's rights, LGBT human rights, education and climate change.  He will also outline ways that UU's can get involved in supporting these efforts.
David and Mary Overton are members of First UU Church of Austin, and have been active in international human rights work for many years.  Mary is a past Board member of the UU-United Nations Office, and David is currently the Advisory Board Chair.
In 2012, David and Mary traveled to Ghana in West Africa with UUA President Peter Morales and UU-UNO Director Bruce Knotts to visit educational programs operated by the UU-UNO.  They are also involved with the UU Service Committee, and David serves on the board of the global health non-profit organization Mercy Ships.
David is a partner with Opus Faveo Innovation Development, a venture development firm based in Dallas.  David and Mary have two grown children and two grandchildren, and live in Austin, Texas.
Date/Time
Date(s) - Jul 24, 2016
10:30 am - 11:30 am
Location
Thoreau Woods Unitarian Universalist Church