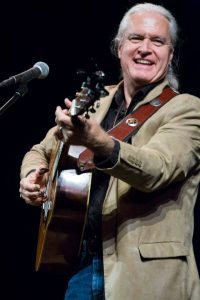 With all of the stress and turmoil in our lives these days, we are, after all human beings who have always dealt with stress and turmoil. Meanwhile, here's a little list of things I absolutely love about life…and I'll bet you do, too.
Singer Songwriter, Teacher, Producer, and Speaker, Ken Gaines is the 2005 Texas Music Awards Singer Songwriter of the Year. For the past 18 years he has produced the Thursday night Songwriters in the Round Series at Anderson Fair http://www.andersonfair.net , Houston's oldest acoustic venue. He's a veteran performer with incredible breadth and polish and one of Texas' finest and most well-rounded songwriters. He tours nationally and throughout his home state of Texas and has written songs for film, stage and commercials. He's also a regular performer at the Kerrville Folk Festival http://www.kerrville-music.com/ .
Ken is also known as a teacher and public speaker. He teaches songwriting, performance skills, "Diet Tips for the Traveling Musician" and regularly gives performance lectures on songwriters and living a creative life. For the past 5 years he has been on the faculty of the Kerrville Music Camp for Teens. He's known as the MC for the Texas Music Awards http://texasmusicawards.org/ and Songwriter Serenade http://songwriterserenade.com/.
For the past 11 years Ken has been a regular contributor at the Folk Alliance International http://www.folk.org/? conventions and FAI's regional expression, SWRFA (Southwest Regional Folk Alliance.) http://www.swfolkalliance.org/ At these conventions he functions as a teacher, performer, and produces the Anderson Fair Showcase Room. Ken is a Member of the Academy of Texas Music http://www.academyoftexasmusic.org/, Vice President of Visionary Heights http://visionaryheights.com/ in Houston, and has two CD's on the Songdog Record Label http://songdogrecords.com/ as well as numerous compilations cuts. His CD's are available at MyTexasmusic.com http://www.mytexasmusic.com/
More information including performances, YouTube videos, and recorded music can be found at http://www.kengaines.com
Date/Time
Date(s) - Aug 7, 2016 until Aug 7 2016
10:30 am - 11:30 am
Location
Thoreau Woods Unitarian Universalist Church