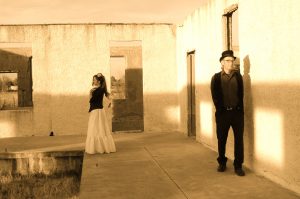 We will discuss our songs related to the idea that perhaps we are (as the theory of quantum physics suggests) all one.   As we know of our limited physical world, we share and breathe the same dust and molecular matter that Buddha, Jesus, Mohammad, Gandhi and all our ancestors did.  Could not consciousness be energy that is similarly recycled?
The ultimate truth is, as we see it, a big mystery. However, the principles of living in love are universal.  The human condition, both dark and light, is the reality we have.  Please allow us to share our songs touching on these rich nuggets along the spiritual path.
More about Paper Moon Shiners:
Deeply embedded in the past, the riotously fun, gritty, saucy, sometimes sad, operatic and always soulful Paper Moon Shiners mine time periods that conjure up smoky prohibition speakeasies, dust bowl medicine shows, Mississippi Delta juke joints and Harlem Renaissance night clubs.
Elena Antinelli is a hidden talent, unearthed when she met her now musical and life partner, Frank Meyer, with whom she co-founded the Paper Moon Shiners in 2011. Her first foray as a singer into the world of live music is branded by her fiery, inherent talent which leaves audiences astonished at the gorgeous brazenness of her performance. Elena's musical vision is strongly influenced by her wonder and nostalgia for things almost forgotten. From reading old books through dust-speckled sunbeams in Chicago antique stores to exploring countryside abandoned buildings in her home state of Texas, the call to revive a story from forgotten spirits lives strong in her musical aesthetic.
"I'm grateful to have found such a positive and creative way to express my inner landscapes and each show possess a journey of emotions captured subtly in a beautiful ballad or tumultously in gutteral blues piece." –Elena Antinelli
Frank Meyer's musical career, on the other hand, has spanned almost 50 years. He played bass for years with harmonica virtuoso Gary Primich as well as other blues legends, including B.B. King. He has written and continues to write dozens of songs and has released three all-original solo albums. In their collaboration, Frank applies his original melodies and poetry to Elena's gift for creating a vision and a story; the result is a collection of lush musical gems. Their shared desire to tell musical stories and their fascination with the 20th-century American songbook inspire them to make music that is truly unique.
"Songwriting is like building a treehouse. Once there is a tree there; it's just a matter of filling in the missing parts. It seems scrounging the pieces is always richer than buying them at the store." –Frank Meyer
As original, clever, dark, droll and engaging as their songs are, it is their live performances that make the Paper Moon Shiners shine among their contemporaries. Elena's strong yet flute-like, versatile but elusive singing suggests tones of Annette Hanshaw and Bessie Smith. Her stage presence and antics evoke the ghosts of vaudeville and cabaret. This, coupled with Frank's projection of his basso profundo voice, his spirited command of the ukulele, and his facility to charm haunting tones out of his antique, steel body resonator guitar generates a mysterious energy and sound that defines a Paper Moon Shiners performance. They weave a sly and subtle magic, not to be missed.
Date/Time
Date(s) - Nov 20, 2016
10:30 am - 11:30 am
Location
Thoreau Woods Unitarian Universalist Church