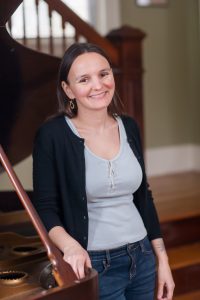 Community singing has a way of opening our hearts and minds to the mystery and wonder that shape our lives. Singer-songwriter Heather Pierson will guide us on a participatory musical journey of peace, wonder, joy, empowerment, and community in our service this morning. Join us as we come together for a time of reflection and celebration.
Heather Pierson is a pianist, singer-songwriter, and performer who frequently tours throughout the United States both as a solo artist and with her acoustic trio. She has released twelve CDs of her original music, ranging in style from folk to jazz to vocal chants. From 2003 to 2019, she was the music director of the First Universalist Church of Norway, Maine. In addition to her performance schedule, Heather is available to lead community singing workshops and group meditation with music. She lives in Conway, New Hampshire. You can reach her through her website: 
www.heatherpierson.com.
Date/Time
Date(s) - Apr 5, 2020
10:30 am - 11:30 am
Location
Thoreau Woods Unitarian Universalist Church