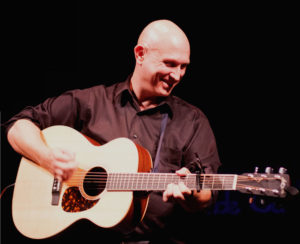 These are the most basic of questions.  Who am I?  What is the purpose of my life?  Do I matter?
We answer these questions in many important ways.  Today's talk and performance explores how the commitment to creativity and craft, and seeking excellence in that pursuit, can give purpose and meaning to our lives and can give us strength.
The first thing you will notice is a voice that is effortlessly powerful and immediately intimate, and honest. Rob's voice has been compared favorably to artists such as Jackson Browne, Jonathan Edwards, and James Taylor for its unique clarity and, seemingly effortless, ability to navigate interesting melodies.  When combined with songs that move from humor, to wry observation, and to satisfying moments of recognition, Rob has been described as "an irresistible artist, the kind whose vocal tenderness and lyrical honesty compel you to listen to him."  After a nearly 14 year break from performing, the past five years have been a whirlwind musical rebirth with a busy touring schedule (including an appearance at the 2015 Kerrville Folk Festival) and the global release of two critically acclaimed CDs (You. Must Stop (2011) and a hypocrite of heart and hope (2015).  Rob is also very active as a facilitator of creativity and songwriting workshops for both children and adults and is currently working on a book about songwriting.
Date/Time
Date(s) - Jan 22, 2017
10:30 am - 11:30 am
Location
Thoreau Woods Unitarian Universalist Church