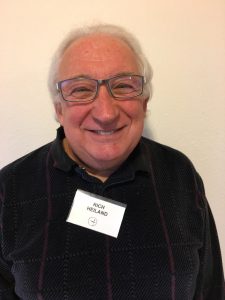 Everyone of us is a leader. But most of us use definitions of leadership that exclude us. Learn where your "hidden leader" is, how to develop and how to effectively use it to live a life of service that you control, particularly in troubled times when so many of us feel helpless.
Rich Heiland is a former teacher, newspaper reporter, editor and publisher with a broad background in business and management. On July 1, he will become our new church president.
While a reporter at The Xenia Daily Gazette, he was part of a team that won a Pulitzer Prize for Reporting for coverage of a devastating tornado that struck that city. He was the National Newspaper Association's columnist of the year in 1985. Rich spent much of his career as a publisher/CEO responsible for all departments, operations and revenues in several newspapers. For Thomson Newspapers he published newspapers in Ohio, Texas and  Pennsylvania; for Park Newspapers, he was a publisher in Illinois and he published two papers in Texas for the A.H. Belo (Dallas Morning News) subsidiary Dallas/Fort Worth Suburban Newspapers. He was a senior writer and columnist for The Fort Worth-Star Telegram.
Since 1992 he has operated his own business, focusing on general management consulting, creative planning, leadership and team development and customer service. He has been active in the Community Leadership Organization and presented at three of its national conferences. He has presented programs on leadership, planning and customer service to thousands of people in the past several years in the United States, Canada, Mexico, Europe, Asia and Australia and New Zealand.
Date/Time
Date(s) - Jun 18, 2017
10:30 am - 11:30 am
Location
Thoreau Woods Unitarian Universalist Church