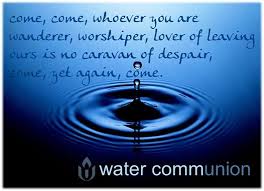 Fellowship Sunday will begin with our traditional music, announcements, readings, and joys and concerns.  Instead of listening to a speaker, it is a time for members and friends to share topics and themes of concern and interest with others.  This week, we will be having water communion.
You are warmly invited to join us to celebrate our annual Water Communion.  The Water Communion ceremony was developed to recognize the unique gifts we each bring to the spiritual community we shape together.  Please bring with you a small cup of water from a place of significance to service to place in our common bowl.  The water could be from as close as your home tap or as far away as a place you have recently traveled.  It doesn't matter so much as to where the water comes, what matters most is that it comes from YOU!  We will also have water available.
Since the service is usually out a little sooner, it is a great time to get better acquainted with members and friends at the potluck. Please bring something to eat and to share with others.
Date/Time
Date(s) - Sep 17, 2017
10:30 am - 11:30 am
Location
Thoreau Woods Unitarian Universalist Church