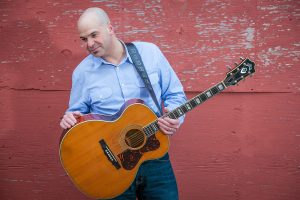 I often describe myself as a topical songwriter as opposed to a protest singer. I have no desire to lecture people and scold them into action. People are too smart for that and can decide where they stand on the issues themselves. I'd rather tell the human side of the stories. I'd rather tell the truth. There is truth in this era of "fake news," science deniers, and biased social media posts. And it matters. As a writer, I delve into another's world to discover their truth. This, in turn, instills empathy. Similarly, empathy can lead to the truth. This process works on a much broader level. In this time of deep division, just imagine what we could accomplish by listening to one another instead of shouting at each other.
Michael Braunfeld is, first and foremost, a storyteller. His songs capture the everyday triumphs and struggles of ordinary people. His characters – though trapped in the particular circumstances of their own lives – appeal to a universal audience.  Michael was welcomed into the Writers' Night Family at The Bluebird Cafe in 2014 and in 2016 he was named a finalist in the Grassy Hill Kerrville New Folk Competition.  From sold out listening rooms to festivals, Michael is delighting old fans and winning over new audiences at every stop.
Whether addressing topical issues or sharing personal stories that often leave his audiences feeling that he has somehow, in some way, invaded their privacy, Michael's performances combine a powerful guitar style with a seemingly endless supply of urgency. And he has a pretty sneaky sense of humor too.
Date/Time
Date(s) - Sep 24, 2017
10:30 am - 11:30 am
Location
Thoreau Woods Unitarian Universalist Church