6:00 – 7:15 pm Libby Koch
Libby Koch (pronounced "coke") is an Americana singer-songwriter with a true country voice.  The seventh generation Texan and Berkalin Records artist is currently in production on her fourth full-length solo album with multiple Grammy winning producer Bil VornDick (Alison Krauss, Rhonda Vincent, Jesse Winchester, Ralph Stanley).
Libby's Americana sound blends the songwriting soul of classic country music with gospel roots, a rock edge, and the storytelling sensibility of a Texas folk troubadour. She delivers each song with powerful vocals in the style of her heroes – Dolly, Emmylou, Patsy – but with her own signature voice.
Born and raised in Houston, Texas, her songwriting and performing began in high school but matured while she was in law school at Nashville's Vanderbilt University, where she gigged around town and discovered the music of major influences like Ryan Adams, Patty Griffin, Steve Earle, Gillian Welch, and Lucinda Williams. After graduation, she returned to Houston to practice real estate law at a large firm, but by 2010, she decided to follow her heart and make the leap to full time singer-songwriter. Since then, she has self-released an EP and two solo albums, an album with her band The Grievous Angels, and her most recent album, Tennessee Colony, on Berkalin Records. In the past two years, Libby has been touring nationally, performing over 300 shows in 26 states and traveling thousands of miles with her faithful dog, Bridget, to bring her music to fans and festivals across the country.
In 2014, Libby performed at the Kerrville Folk Festival's Threadgill Theater and was selected to play the Emerging Artist Showcase at the Falcon Ridge Folk Festival in August. She was also a finalist in the Wildflower! Performing Songwriter Contest and a semifinalist in the Songwriter Serenade. Additionally, she played the Suzi Wollenberg Folk DJ Showcase and a Quad Showcase at the Northeast Regional Folk Alliance (NERFA) Conference. In 2013, Libby was named Songwriter of the Year by the Houston Press, won 2nd place in the Songwriter Serenade, and had an official showcase at the Southwest Regional Folk Alliance (SWRFA) Conference.
7:30 – 8:45 pm Mystery Loves Company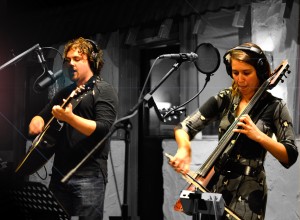 Mystery Loves Company is a touring and recording Chamber Rock band from Houston, Texas, whose diverse musical influences create an edgy and lyrical experience which continues to garner attention in the local and national music scene.  Guitarist Carlos A. Machado and cellist Madeline (Maddy) Herdeman met while performing at an open mic in the fall of 2012.  A week later they got together for an informal songwriting session, and it was evident then that the collaboration deserved their time and effort.  They have since released two full-length albums as Mystery Loves Company, and tour the east coast and Midwest yearly.  Carlos and Maddy combine vocally and instrumentally to produce a layered and intricate sound that translates seamlessly from the studio to the stage.
http://www.mysteryloves.com/about-mlc.html
Date/Time
Date(s) - May 5, 2016
6:00 pm - 8:45 pm
Location
Gazebo