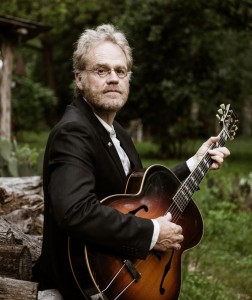 Singer-songwriter BOB LIVINGSTON has never been a traditional Texas country musician living the honky-tonk life, even though he's spent more than his share of time on the roadhouse circuit with some of the most colorful musicians in Texas. As a member of Austin's legendary Lost Gonzo Band, performing and recording with such musical visionaries as Jerry Jeff Walker, Michael Martin Murphey and Ray Wylie Hubbard, Livingston played an integral role in creating the music that first earned Austin the designation of 'Live Music Capital of the World'. Achieving recognition in their own right, the Gonzos' self-titled debut record was named by 'Rolling Stone', "one of the best albums ever to come out of Austin".
Livingston has seen a lot of the world since growing up in musically fertile West Texas. Hailing originally from Lubbock, his interests were more 'Cosmic' than 'Cowboy' and have prompted him to delve into the music and mysteries of many cultures. Traveling since the 80's as a Music Ambassador for the US State Department, Livingston has taken Texas music as far afield as India, Africa, Southeast Asia and the Middle East, demonstrating again and again the unique power that music has to build bridges between peoples of the world. As Livingston says, 'When all else fails, music prevails'. This philosophy earned him the honor of being appointed, 'Austin's International Music Ambassador', in November of 2009 by the City Council.
This world-traveled view was reflected in Livingston's 2004 CD, 'Mahatma Gandhi & Sitting Bull', released on Vireo Records and named in the Austin American-Statesman's "Top 10 List." In 2008, Vireo released a compilation called, 'Original Spirit', that includes 'Gandhi & Bull' in its entirety and several more surprise tracks from Livingston's Lost Gonzo Band days. But it's his new CD, 'Gypsy Alibi', that is defining Livingston's new musical direction. Released in 2011 on New Wilderness Records, 'Gypsy Alibi' is co-produced by Lloyd Maines and is the winner of the "Album of the Year" at the Texas Music Awards 2011. It has more of a folk-rock/Americana spirit than his last outing and is enjoying steady radio airplay around the country and abroad. Listen to "Ruby's Shoes, "Country Western Swing," and "Androids Lament."
In a side project, Livingston plays with a multi-cultural band from Texas and India called Cowboys & Indians supported by the Texas Commission on the Arts and the City of Austin's Cultural Arts Division. They play in schools and theaters all over Texas. Livingston is turning the concept into a full-fledged musical play with Houston playright/songwriter, Bobby Bridger. The First Performances are scheduled for Summer 2014.
In a live performance with Bob Livingston, one finds a veteran singer-songwriter and a master storyteller who captures his audience from the first notes played. It's an irresistible invitation to travel down the cosmic musical highways and rutted back country roads where fate has taken him over the years.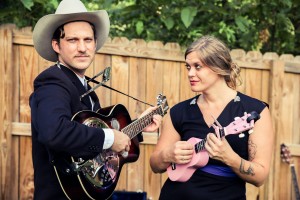 The Rough & Tumble used to say they were from Nashville, Tennessee.  That was before last year, when members Mallory Graham and Scott Tyler sold everything they owned, paid their last month's rent, bought a camper, and took to the road full time.  Along with their 97 pound dog, Butter, and a trunk full of acoustic guitars, a toy piano, a weezy old accordion and various other noisemakers, The Rough & Tumble have been hard at work bringing their own unique take on American folk music to audiences across the country. 2016 will see The Rough & Tumble releasing a soundtrack to a short-film about female veterans returning home from war called "Pieces and Pieces" as well as releasing a new album of original material, the first since 2014's "The Rough & Tumble's Holiday Awareness Campaign," a 24 song celebration of the under-celebrated holidays on the calendar. You can get to know Rough & Tumble at www.theroughandtumble.com, with their music also available on iTunes and Spotify.
Date/Time
Date(s) - Mar 19, 2016
7:00 pm - 10:00 pm
Location
Thoreau Woods Coffeehouse