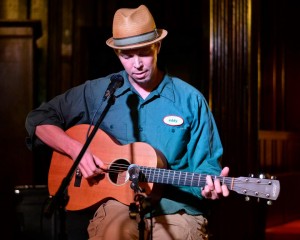 An evening with Todd Hoke will include songs about living, songs about dying, songs about laughing, and songs about chickens. To date, Todd has recorded 3 CDs with volume 4 currently in the works. (If we're enumerating Todd's achievements we could also mention that he's run 9 marathons, been married to Mrs. Hoke for 21 years, and has worked in hospice care for over 15 years.) Back in Hendersonville, NC—where Todd lives nowadays—he started an extremely popular "Gospel Brunch" series at Southern Appalachian Brewery with a couple of friends (performing under the name Redneck Mimosa). He also has a four piece band–King Possum–that plays a lot of Todd's material. But Todd's favorite performances are concerts like we'll be having on October 17th: intimate listening rooms where artist and audience can truly connect over an evening of story and song.
Joining Todd for this show on harmonica will be his good friend (and newly retired fireman) Richard Brock.
So what should you expect from an evening with Todd Hoke? This: You will laugh. You will sing. You will walk out feeling better than you did walking in. Find out more about  Todd and his music at toddhoke.com.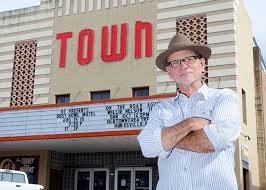 Scott's musical influences are rooted in the sounds of Woodstock Rock and traditional country music. His own sound evolved after the 70's Texas music revolution and have been rounded out by a sense and sound of folk.
With deep roots in rural Texas, Scott paints the pictures of small town life in the words of song. Old men sitting under shade trees and the pain felt when the box plant closes and leaves a town without its primary employer. Whether you remember the big old cars of your younger years, proudly sported letter jackets or schoolboy art left prominently on the town's watertower, his songs will spark memories in all who hear them.
A songwriter since the 60's, he has played in bands from Texas to Florida and Alabama back to Colorado. His songs have been covered by other artist and recognized in song contest among which he was a finalist in Colgate's Country Showdown. He has shared the stage with Ray Wylie Hubbard, Cooder Graw, Gary P. Nunn, Willis Alan Ramsey, Larry Joe Taylor, Sisters Morales, Tom Russell, Steven Fromholz and many more great musicians and fellow songwriters.
Scott has been married to the same lady for more than half his life and if that were not enough he has been lucky enough to have owned several fine horses.
Date/Time
Date(s) - Oct 17, 2015
7:00 pm - 10:00 pm
Location
Thoreau Woods Unitarian Universalist Church