Bruce Allen Marx
September 10, 1960 – May 18, 2016
Memorial services for Bruce Allen Marx, P.A., 55, of Livingston, Texas, were held Saturday, May 21, 2016 at 2:00 p.m. in the Cochran Funeral Home Chapel in Livingston, Texas.  They were officiated by Beth Williamson of Thoreau Woods Unitarian Universalist Church, where Bruce had been a member for some years.
Mr. Marx was born September 10, 1960 in Brooklyn, New York to parents, John Allen Marx and Anna (Haffner) Marx, and passed away May 18, 2016 in Conroe, Texas. He is preceded in death by his parents.
He is survived by his wife, Sharon Marx of Livingston, Texas; son, Jayden Marx of Livingston, Texas; and brother, John Marx of Livingston, Texas; along with numerous other relatives and friends.

Dr. Robert Lee Peake
Services for Bob Peake, 79, of Livingston, Texas, were held Saturday, June 27, 2015 at 3:00 p.m. in the Cochran Funeral Home Chapel in Livingston, Texas with Rev. Tony Lorenzen officiating.
Dr. Robert Lee Peake passed away peacefully on June 14, 2015 at his home in Livingston, Texas. He was born in Evansville, Indiana on July 6, 1935 to Robert and Leona Peake. He is preceded in death by his parents, and son, Eric Robert Peake.
Bob graduated from Lincoln High School in Vincennes, Indiana. He married Karen Bisel on December 24,1957. Although both were native Hoosiers, Bob and Karen were from opposite ends of Indiana and did not meet until they arrived at the Indiana University their junior year where they were both active members of the Wesley Foundation. At IU, Bob earned his medical degree in Internal Medicine, specializing in Endocrinology and Metabolism. Bob and Karen first came to Texas where Bob was on detached Air Force duty with NASA. Then, in 1968, Bob finished his residency and joined the faculty of the Department of Internal Medicine at UTMB Galveston. He did thyroid research and taught medical students for 25 years. In 1983, Bob entered into private practice in General Internal Medicine, specializing in thyroid disease and diabetes. Being able to focus on patient care was the most fulfilling part of his career. He was truly loved by his patients; he was "always on call" and made himself available whenever his patients needed him. He retired in 1997 and moved to Lake Livingston.
Photography was an important part of his life. In his own color darkroom studio, he developed, printed, matted and framed photographs, later graduating to digital technology. He exhibited and competed in both the Galveston Art League and Livingston Art League. He had 4 individual exhibitions at UTMB and was one of five artists honored at a New Artist Exhibition sponsored by the Galveston Art League. His appreciation for the beauty and spirituality of nature is evident in his photographs taken from his travels around the world, including places such as Australia, Italy, Greece, Turkey, Canada, Costa Rica as well as Colorado, Alaska, Hawaii, Yellowstone National Park and the Grand Canyon.
He loved experimenting in the kitchen and often successfully copied his favorite restaurant dishes. He appreciated a variety of musical styles. Besides playing baritone in his high school band, he also played in a small German band. After retiring, he was a member of the Livingston Area Community Band. Sailing at the Galveston Boat Club every Sunday after church as well as fishing on Lake Livingston were important activities he shared with his family. He also enjoyed playing tennis. He volunteered for and served as president of the Friends of Murphy Memorial Library. He was a member of both "Boots and Babes" and "Levis and Lace" square dancing clubs. He was an avid bridge player beginning back when Bob and Karen learned to play bridge together in college. In Livingston, he progressed to duplicate and participated in local ABCL competition. He was a "kind partner to his life partner."
Bob was a voracious reader and a member of the Food for Thought Book Club. He had an insatiable quest for knowledge and was a lifelong student of theology and religion as he continued his spiritual journey through life.He also enjoyed fiction and non-fiction, especially history, politics, medicine and finance.
He has served in various leadership roles as a member of Unitarian Universalist Churches in Galveston, Lufkin, and Huntsville, which reflected his values.
He is survived by his wife, Karen Peake of Livingston, Texas; daughter and fiancé, Robyn Peake and Derrick Lormand of Austin, Texas; granddaughter, Alex Woeste Troxtell and her husband, 1LT Taylor Troxtell of Anchorage, Alaska; grandson, Michael Woeste of College Station, Texas; nephews, Curtis Bisel and his wife, Stacy of Pasadena, California, Christopher Bisel and his wife, Erika of Baltimore, Ohio; brother-in-law, Paul Bisel of Lexington, Kentucky; sister-in-law, Linda Bisel of Lexington, Kentucky; cousin, Peg Peake of St. Louis, Missouri; along with numerous other relatives and friends.
He will be remembered by ALL for his quick wit and sense of humor.
In lieu of flowers donations may be made to the Thoreau Woods Unitarian Universalist Church in Huntsville, The Friends of the Livingston Municipal Library or the charity of your choice.
The family would like to acknowledge Dr. Raymond Luna for his special care.
Please sign our online guestbook at www.cochranfh.com.

STUART WILLIAMSON
Stuart Foster Williamson was the son of the late Ross Robert and Mada G. Williamson. He was born May 9, 1940 in Bedias, Texas. He passed away on February 6, 2015 at his residence near Bedias, Texas.
Mr. Williamson proudly served in the Peace Corps in the Philippines 1962-64 and as a chaplain's assistant in the United States Army in Vietnam He worked as a corrections officer, grant writer and later as a purchaser for the Texas Department …of Justice here in Huntsville. He was a graduate of Baylor University with a major in Religion and received a Master's degree from the Episcopal Seminary of the Southwest. He taught English as a second language to foreign students at Sam Houston. Mr. Williamson was a past president of the Huntsville Kiwanis Club, He was a published writer of country music and was a member of the Country Music Writers Association, He was the founder of the Walker County Habitat for Humanity, and started the Thoreau Woods Unitarian Universalist Church.
A brother, Ross Robert Williamson, Jr. and his parents precede him in death. He is survived by devoted wife of 33 years, Beth Williamson, brother George Williamson, sisters-in-law: Lanelle Williamson, Barbara Drake Allen, Mary Jo Tyson, and brother-in-law Jay Drake; nieces and nephews Wendy Roberts, Julie Ausbrook, Jason Williamson, Melissa Tyson, and Megan Tyson; and great-nieces and great-nephews Kaysi, Kaitlyn, Abigail, Lola, Benjamin, Logan, Toby and Jasper.
There will be visitation at 10:00 AM followed by a Celebration of Life service at 11:00 AM on Saturday, February 14, 2015 at Sam Houston Memorial Funeral Chapel with Rev. Tony Lorenzen officiating.
In lieu of flowers memorial may be made to Walker County Habitat for Humanity, P. O. Box 1012
Huntsville, TX 77342.
---

Pat Henry
Pat passed away on March 17, 2014 at the home of her neighbors and dear friends Betsy Waite and Jim Pead. Her last few days she was surrounded by the love of her family and friends with the support of a dedicated hospice team.  It was a joy to see her in a lovely home setting with her favorite music, delightful scents, her beautiful camellias and other pleasures.  She slept a great deal but also for periods of time was aware of the persons in her presence.  She made eye contact and managed a few smiles.
Pat's memorial service will be held at 2 P.M.Wednesday, April 2 at the Escapees Care Center.  It is quite easy to find.  The address is 155 Care Center Drive and located in the Escapees RV Park right off Hwy 146 South of Livingston.  It will be the 3rd entrance into the park. Pat's daughter, Chrissy, and her brother, Scott, joined us at our service this Sunday and shared in our potluck.
---
ARTHUR EDWARD "TED" BACK
CELEBRATION OF A LIFE WELL LIVED
Ted Back, 84, of Huntsville, Texas, previously of Houston, Texas and Windsor, Ontario, Canada passed away on July 26, 2010 at his home. Ted was preceded in death by his parents, Arthur Back and Ruby (Patterson) Back and his sisters, Jean (Back) Wint and Claire (Back) Gowdy. His memory lives on with his beloved wife of 15 years, Jean Bawden; daughter, Karla Back and her husband, Peter von Stackelberg of Alfred, New York; daughter, Laura (Joseph) Coughlin; stepchildren, Sonji Denson, Phillip (Carla) Stewart, and Ann Kuhnel; his grandchildren, Jacquelyn (John, Sr.) Fries, Lisa and Elizabeth Coughlin, Nikolas and Alexandra von Stackelberg and step-grandchildren, Stephanie Patterson, Sarah Tooke, and Christian and Madelyn Stewart.
He is also survived by three great grandsons, John Fries Jr., Adam and Brice Patterson, and his former wife, Mary Margaret (Mimi Back) Greene. Following graduation from Kennedy High School, Ted enlisted in the Canadian Army in 1944 and served in Europe with the Essex Scottish Regiment Infantry during World War II. He returned to Windsor, completed his Bachelors Degree at the University of Western Ontario in 1948, joined Sun Life of Canada and married Mary Margaret Fraser. His work with Sun Life took him from Windsor to Charleston, West Virginia, to Houston, Texas to Wellesley Hills, MA and eventually back to Houston, where he retired. While in Houston he met and married Jean Bawden and moved to Huntsville, Texas. Ted loved his family, a good joke, volunteering for Literacy Plus and the Democratic Party, playing golf, reading, listening to all types of music and animals; especially dogs. Those wishing to donate in Ted's memory may donate to the City of Huntsville Public Library, the Huntsville Area Literacy Council or the Rita B. Huff Humane Society in Huntsville, Texas. There will be a memorial service at the Thoreau Woods Unitarian Universalist Church in Huntsville, Texas at 11:00 on August 21, 2010 with a reception to follow at St. Stephen's Episcopal Church in Huntsville. Please park at St. Stephen's Episcopal Church and a shuttle bus will be provided to Thoreau Woods Unitarian Universalist Church and back. The shuttle service will begin at 10:15.
---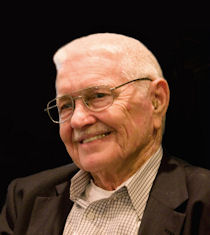 Kelley Sigler
A memorial service for Kelley Sigler was held at the church on Friday, April 9, 2010 at 4:00. We will all greatly miss Kelley. A wise, warm, friendly, caring man, he was a founding member of our congregation and never missed a service unless he wass ill or out of town visiting his family or exploring the world. The February 14th service this year, the first service in our new building, was dedicated to Kelley, who served as the first building committee chair.
Kelley Sigler Peace Garden
Our landscapers–Paul Culp, Dusty Hill, and Lee Williams–have created a beautiful butterfly garden at the front of the church. This new garden is called the Kelley Sigler Peace Garden.  David Zellar donated a large burr oak tree in memory of Kelley Sigler. Groundskeepers Dusty Hill and Lee Williams planted the tree at the southwest corner of the church.
---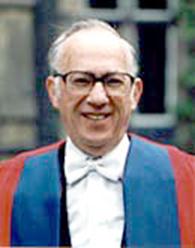 Frank Schulman
March 26, 1927 – January 4, 2006
To view his Memoriam, click here.